Healthy Habits for Raising Healthy Eaters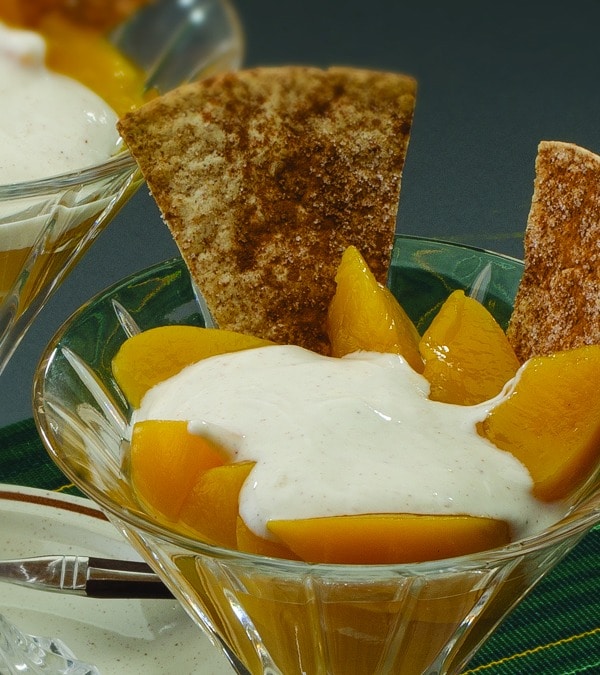 Tips to get kids to enjoy healthy foods
Fruit Dip with Cinnamon Sugar Scoops
(Family Features) For many parents, getting their children to eat the right foods can be a daily struggle.
According to registered dietitian Deanna Segrave-Daly, there are many simple ways for parents to get their little ones to eat the foods they need to grow up strong and healthy. Here are a few ideas you can incorporate into your family's routine:
Train Tiny Taste Buds
Getting young kids to accept new foods can wear down even the most patient parent. It may take 10-15 exposures to a food before a kid accepts it. Encourage trying new fruits and vegetables for just a few bites.
"Fast Foods" for Smaller Tummies
Younger kids, especially toddlers, seem to be hungry at any time but mealtime. Those small stomachs burn calories fast, so it's natural and healthy for kids to snack between meals. Choose nutrient-rich, balanced snacks that are quick to serve. This can include:
A portion or two of sliced of low sodium ham and tomato slices wrapped in a whole wheat tortilla and cut into one inch pinwheels
Libby's Fruit Cups mixed with yogurt or peanut butter
Pita wedges with hummus and avocado
Smoothie made with frozen banana, plain yogurt and chocolate milk
Teaching Coordination at the Table
Dinnertime is prime time to build young children's fine motor skills that require control of small hand muscles. Actions like pinching small pieces of food and effectively using a fork and spoon can help with more advanced skills down the line. Have kids practice with small pieces of soft food, like cooked vegetables or fruit – yet another opportunity to expose them to healthy foods.
Give Veggies a Good Rap From the Start
Are you setting up veggies as the bad guys? Avoid phrases like, "If you finish your peas, you can have dessert." This sends the message that peas don't taste as good as cookies. Rather, tell kids to take a bite and if they don't like it, they can leave it. Keep serving it at future meals and one day, your child may surprise you. And remember, your kids need to see you enjoying vegetables, too.
Got Picky Eaters?
While many young kids aren't fond of certain flavors, some may even be sensitive to particular textures or temperatures. If raw carrots are too rough or crunchy, try a softer version, such as Libby's Diced Carrot cups. If a heated veggie is refused, try serving it at room temperature. Help your kids to connect mealtime with eating colorful fruits and veggies by exposing them to healthy foods at every meal.
For additional healthy, kid-friendly meal and snack ideas, visit www.getbacktothetable.com.
Fruit Dip with Cinnamon Sugar Scoops
Ingredients
Scoops:
Cooking spray
2 (8-inch) whole wheat tortillas, cut into 8 pieces each
1 tablespoon sugar
1/2 teaspoon ground cinnamon
Dips:
4 Libby's Diced Peaches Fruit Cups, or other Libby's Fruit Cups (4 oz. each)
2 tablespoons fruit syrup (strain from Fruit Cup)
1 cup plain nonfat Greek yogurt
2 teaspoons honey
1 teaspoon ground cinnamon
Preparation
Preheat oven to 400°F. Coat baking sheet with cooking spray. Place tortilla pieces on baking sheet. Coat pieces with more cooking spray. In small bowl, mix together sugar and 1/2 teaspoon ground cinnamon. Sprinkle over tortilla pieces. Bake for 5-6 minutes until slightly crisp. Remove from oven and cool on rack.
While scoops are cooling, drain fruit, saving 2 tablespoons fruit syrup. Put contents of one Fruit Cup (4 oz.) into individual serving bowls. In mixing bowl, combine fruit syrup, yogurt, honey and 1 teaspoon cinnamon.
To assemble each fruit cup dip, spoon 1/4 cup cinnamon yogurt on top of each fruit cup and serve with four cinnamon scoops each.
Serves
4 servings
Notes, Tips & Suggestions
Courtesy of Deanna Segrave-Daly, RD, LDN
SOURCE:
Libby's