Jump to recipe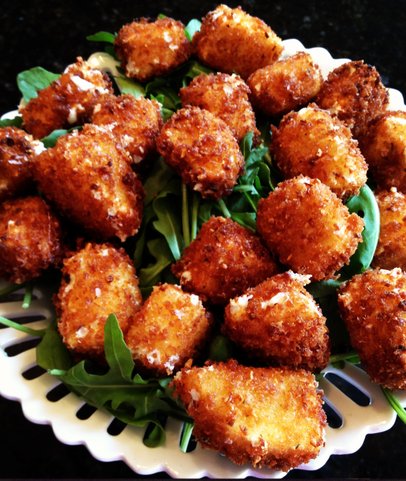 Fried Fresh Mozzarella Bites

Ingredients
1/2 lb fresh mozzarella, large dice
1 egg, lightly beaten
approx 1 1/2 cups plain Panko breadcrumbs
approx 1/2 cup flour
2 tsp Garlic (or the garlic and herb seasoning blend of your choice)
a bowl of warm tomato sauce for dipping if you'd like
vegetable oil for frying
Instructions
This could not be easier! Dice the fresh mozzarella into large chunks.
Set up your breading station… one container with flour, one with egg and last the panko breadcrumbs mixed with the garlic garlic and a little salt. First coat the mozzarella in the flour, next the egg and lastly the panko.
Place all bites on a dish and refrigerate for an hour. This allows the coating to really stick!
Add enough oil to a small saucepan to be about 2 inches deep. With saucepan over medium high heat fry the mozzarella bites a few at a time, being sure not to overcrowd the pot. Tip: Test the oil by gently tossing in a piece of breading, if it immediately floats to the top and has bubbles surrounding it then you are ready to go. If you out a bite in the oil and it doesn't come straight to the top the oil is not ready! It should only take about 15 seconds for the bites until golden brown. Place on a cooling rack to prevent the coating to loose its crisp!
Recipe and Photo: Foodista / CC BY