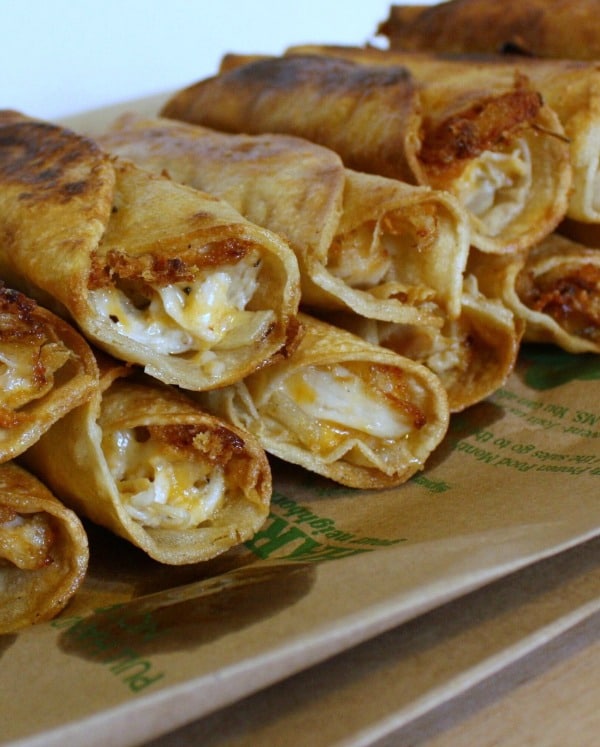 Ingredients
2/3 cup plus 2 tablespoons vegetable oil
1 onion, chopped
5 cloves garlic, finely chopped
3 cups shredded store-bought rotisserie chicken meat
Salt and pepper
1 1/2 cups shredded monterey jack cheese (about 6 ounces)
12 small corn tortillas
Instructions
In a large skillet, heat 2 tablespoons oil over medium heat. Add the onion and garlic and cook, stirring, until softened, about 6 minutes. Add the chicken, 1 teaspoon salt and 1/4 teaspoon pepper and cook, stirring, until heated through. Transfer to a bowl and stir in the cheese. Wipe out the skillet.
In the same skillet, warm the tortillas over low heat to soften, about 15 seconds on each side. Place on a work surface, then spoon 1/4 cup chicken mixture down the center of each. Roll up the tortillas.
In the same skillet, heat the remaining 2/3 cup oil over medium-high heat. Working in batches, add the chicken rollups seam side down and cook, turning once, until golden, about 2 minutes; drain on paper towels.
https://stlcooks.com/fried-chicken-rollups/
Recipe and Photo: Sunshine and Bones / CC BY-SA