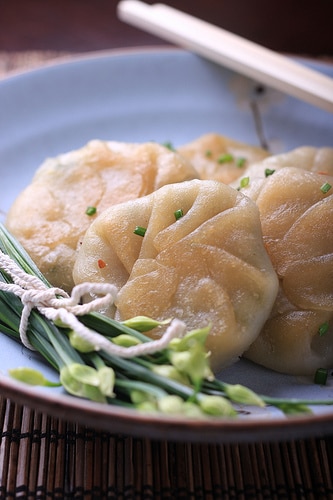 Flowering Chive and Garlic Dumplings
Ingredients
for the dough

1 cup wheat starch
1/4 cup tapioca flour or starch
1/4 cup rice flour
1/4 teaspoon salt
1 teaspoon oil
1 cup vegetable broth

for the filling

6 cloves of garlic, minced
2 cups flowering chives, chopped and tips reserved
1 TB dark sesame oil

for the sauce

1/4 cup mirin
1 TB soy sauce
1 TB fresh ginger, grated on a microplane grater
1 tsp sugar
1/2 tsp rice vinegar
pinch of red pepper flakes
Instructions
Place all of the wrapper ingredients, except for the boiling broth, into a Kitchen-Aid mixer. Attach the flat beater and mix on low for a few seconds to combine. Heat the broth in the microwave until it comes to a boil and then add it to the mixture and knead at a high setting for several minutes, until the dough is soft and pliable.
Roll the dough into one large ball, then separate them into four small balls. Roll each ball into a cylinder shape, about six inches long. Place three of them onto a greased plate and cover with saran wrap while you make the first four wrappers.
Divide the cylinder into four equal pieces. Take one piece in your hand and mold it into a flat circular shape. Place it in between two sheets of parchment paper, then use a mini roller to get them as thin as possible. They don't need to be a perfect circle.
Place the finished wrappers under the saran wrap while you make the rest of the wrappers.
To make the filling, heat the sesame oil over medium low heat, then add in the garlic and chopped chives. Gently saute for about 3 minutes, stirring frequently to ensure the garlic doesn't burn. Remove from the pan to cool and set aside.
Make your sauce by combining all of the sauce ingredients. Set aside.
To assemble your dumplings, place a small amount of the filling into the center of one of the wrappers. Pull one side up to the center and continue with all sides to make a nice scalloped shape, then flatten them out between the palms of your hand. They don't need to look perfect.
To fry the dumplings, heat about a tablespoon of vegetable oil in a large saute pan over medium-high heat. Once the oil starts smoking, place as many dumplings as you can in the pan without having any of them too close or touching each other. Sear for about 3-4 minutes on each side, or until the bottom is nicely browned.
Now add about 1/4 to 1/2 cup water into the pan. Be really careful, because the water will sputter. Quickly cover the pan with a tight lid and reduce the heat to low. Let it steam for about 5 minutes. Remove the lid, flip the dumplings and dial the heat back up to medium and saute until the water has all evaporated.
Repeat these steps until all of the dumplings have been fried, then serve immediately with the ginger dipping sauce and garnish with the reserved flowering chive tips.
https://stlcooks.com/flowering-chive-and-garlic-dumplings/
Recipe and Photo: Olives for Dinner / CC BY