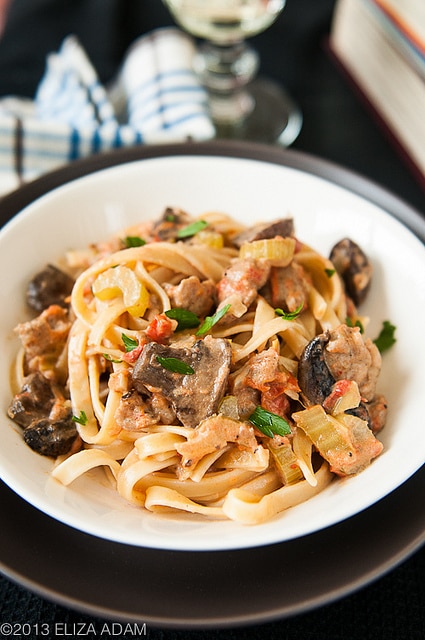 Recipe: Fettuccine with Sausage & Mushrooms
Ingredients
Kosher salt
12 ounces fettuccine
1 tablespoon extra-virgin olive oil
1/2 pound sweet Italian sausage, casings removed
1 small onion, chopped
1 stalk celery, thinly sliced
1/2 pound sliced mixed mushrooms
2 cloves garlic, chopped
4 plum tomatoes, chopped
1/2 cup dry white wine or chicken broth
2/3 cup heavy cream
3 tablespoons chopped fresh parsley
Salt and freshly ground pepper
Instructions
Bring a pot of salted water to a boil; add the pasta and cook as the label directs. Reserve 1 cup of the cooking water, then drain the pasta.
Meanwhile, heat the olive oil in a large skillet over medium-high heat. Add sausage and cook, stirring, until browned, 3 minutes. Increase the heat to high; add the onion, celery, and mushrooms and cook, stirring, until tender, 4 minutes. Add the garlic and cook 1 minute.
Reduce the heat to medium high; add the tomatoes and wine and cook, stirring occasionally, until the liquid is reduced by half, about 5 minutes. Add the cream and cook until slightly thickened, about 4 minutes. Stir in the parsley and reduce the heat to low.
Add the pasta to the skillet and cook, tossing, until it absorbs more of the sauce, 2 to 3 minutes. (Add some of the reserved pasta cooking water to loosen, if needed.) Season with salt and pepper.
Number of servings (yield): 4
Recipe Courtesy of Food Network
Photo Courtesy of Eliza Adam on flickr.com / CC BY-ND