Jump to recipe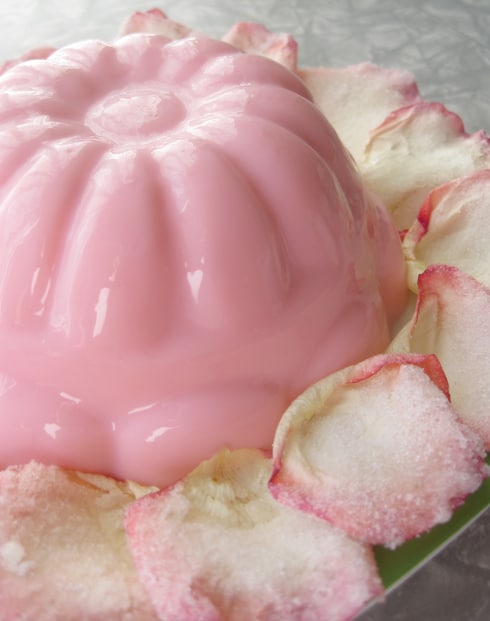 Ingredients
One packet Knox gelatin
½ cup cold whole milk (for blooming gelatin)
1 ¼ cups whole milk (for heating)
2/3 cup sugar (or more to taste)
Zest of ½ lemon
1 teaspoon rose water (I found rose water on the international food aisle at my local grocery store)
2 tablespoons brandy (optional)
Red food-coloring (optional)
Instructions
Put ½ cup of cold milk in a bowl and sprinkle gelatin on top. Set bowl aside. Over medium heat, heat 1 ¼ cups milk and sugar until sugar dissolves (be careful not to scald the milk). Add lemon zest, and remove from heat for 10-minutes. Strain mixture, and pour hot milk over the bloomed gelatin. Stir until gelatin dissolves. Add rose water, brandy, and food coloring (if using), adjusting proportions to your preference. Pour liquid into mold(s) and refrigerate until solid.
To remove gelatin, put mold into a bowl or sink full of warm water for a few seconds. After removing from water, gently shake the mold side to side. If gelatin has not separated from the edges of the mold, run a knife around the edge. Put plate on top of mold and flip over. If gelatin does not come out, try repeating the process.
Decorate with candied rose petals – I used this recipe from Food and Wine. Candied rose petals are easy, lovely, and delicious!
Recipe and Photo: The Modern Gelatina / CC BY