Jump to recipe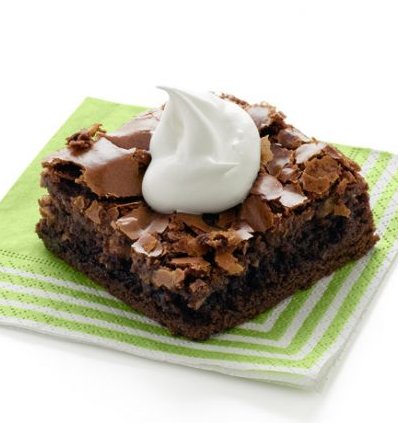 Recipe for Double Chocolate Gooey Butter Cake – A classic rich and gooey butter cake with lots of chocolate flavor!
Double Chocolate Gooey Butter Cake Recipe

Ingredients
1 18.25-ounce package chocolate cake mix
3 large eggs
1 cup (2 sticks) unsalted butter, melted, plus butter for the pan
1 8-ounce package cream cheese, at room temperature
3 to 4 tablespoons unsweetened cocoa powder, to taste
1 16-ounce box confectioners' sugar
1 teaspoon vanilla extract
1 cup chopped unsalted nuts
Whipped cream, for topping (optional)
Instructions
Preheat the oven to 350 degrees F. Lightly butter a 9-by-13-inch baking pan.
In a large bowl, combine the cake mix, 1 egg and 1/2 cup of the melted butter. Stir until well blended. Pat the mixture into the pan and set it aside.
In the bowl of a stand mixer fitted with the paddle attachment, or using a hand mixer, beat the cream cheese until smooth. Add the remaining 2 eggs and the cocoa powder and beat until well mixed. Reduce the speed to low and add the confectioners' sugar. Beat until well mixed. Slowly add the remaining 1/2 cup melted butter and the vanilla. Beat until smooth. Using a rubber spatula, stir in the nuts. Spread the filling over the batter in the pan.
Bake the cake for 40 to 50 minutes. Be careful not to overcook it: The center should still be a little gooey. Let partially cool on a wire rack before slicing. Serve with whipped cream, if desired.
Recipe and Photo: Nibbledish / CC BY-SA