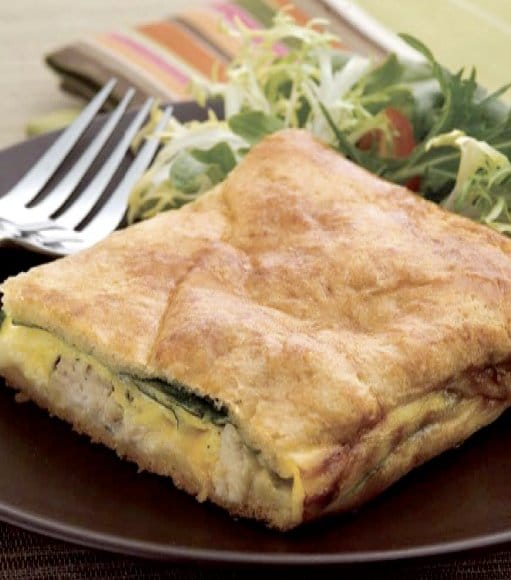 Recipe: Cheesy Chicken Ranch Squares
Ingredients
1 packet (1 ounce) Hidden Valley Original Ranch® Salad Dressing & Seasoning Mix
1 1/2 pounds boneless, skinless chicken breast tenders, cut into 1 inch pieces
2 tablespoons vegetable oil
2 8-ounce tubes (8-count each) refrigerated crescent rolls
1/4 pound (6 to 8 slices) cheddar or colby jack cheese, sliced
2 cups fresh baby spinach, loosely packed (2 ounces)
3 eggs
1/4 cup grated Parmesan cheese
1/4 teaspoon pepper
1 egg yolk, beaten
Instructions
Preheat oven to 350°.
Lightly coat a 13x 9 baking dish with nonstick cooking spray.
In a medium bowl combine Ranch mix and chicken, stirring to coat. In a large skillet, heat oil over medium-high heat until hot. Add chicken and cook, stirring frequently, until no longer pink, about 5 to 8 minutes. Remove from heat and set aside until needed.
Unroll one tube of crescent rolls in the baking dish. Firmly pinch together perforations and pat dough as necessary to fit bottom of dish. Place sliced cheese, covering all dough.
Using a slotted spoon, transfer chicken evenly over cheese. Layer spinach evenly over chicken.
In medium bowl, beat 3 eggs, Parmesan cheese and pepper. Pour evenly over layers.
Unroll second tube of crescent rolls over the top of layered ingredients. Press perforations to seal and stretch to fit. Brush beaten egg yolk over dough. Cover with foil.
Bake for 40 minutes. Remove foil and continue cooking an additional 10 to 15 minutes, until golden brown. Let stand 10 minutes. Cut into squares. Serve warm.
Recipe and Photo: Make Life Delicious / CC BY-SA