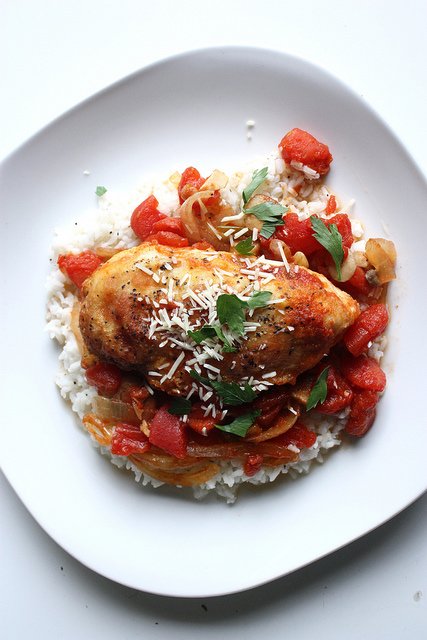 Recipe: Chicken Cacciatore
Ingredients
2 chicken breasts
4 chicken thighs, bone in
2 teaspoons Salt, or to taste
1 teaspoon pepper, or to taste
2 tablespoons olive oil, plus more if needed
1/2 cup flour
1 large onion, chopped
1 large red bell pepper, chopped
6 cloves garlic, crushed
10 fresh mushrooms, quartered
1 (28 ounce) can tomatoes, drained and coarsely chopped
1/2 cup dry white wine
1 1/2 teaspoons dried oregano
Parmesan cheese, to taste
1/4 cup Fresh basil leaves, coarsely chopped
Instructions
In a medium-sized bowl, mix salt, pepper and flour together.
Wash chicken and remove excess skin. Dredge in flour mixture and shake off excess.
Heat oil is a large non-stick skillet over medium-high heat. Add chicken and brown on all sides.
Remove from the pan and drain on paper towels.
To the same skillet add the onion and garlic and stir until onion is soft, but not browned. Next, add red pepper and mushrooms; cook, stirring occasionally until softened.
Add tomatoes, white wine and oregano and cook until alcohol has burned off; 3-5 minutes.
Return chicken to skillet, cover and simmer on low for one hour.
Recipe and Photo: Foodista / CC BY