Jump to recipe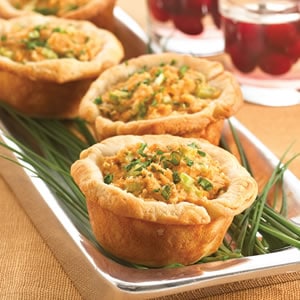 Deviled Crab and Cheese Biscuit Cups

Ingredients
3/4 cup whipped cream cheese spread (from 8–oz container)
1 tablespoon fresh lemon juice
1 teaspoon red pepper sauce
1/4 cup finely shredded mild Cheddar cheese (1 oz)
2 tablespoons chopped green onions (2 medium)
1 teaspoon paprika
1/2 cup garlic and herb bread crumbs
3 cans (6 oz each) white crabmeat, well drained
1 cup chopped celery
1 can (16.3 oz) Pillsbury Grands! Flaky Layers refrigerated buttermilk biscuits
2 tablespoons chopped fresh parsley
Instructions
Heat oven to 375°F. Spray 16 regular-size muffin cups with cooking spray.
In small bowl, mix cream cheese, lemon juice, pepper sauce, Cheddar cheese, green onions, paprika, bread crumbs, crabmeat and celery until well blended.
Separate dough into 8 biscuits; then peel in half to make 16 biscuits. Press or roll each into 5-inch round. Place 1 biscuit round in each muffin cup; firmly press in bottom and up side, forming 1/4-inch rim over edge of cup. Place 2 tablespoons crab mixture in bottoms of muffin cups.
Bake 12 to 15 minutes or until filling is set and edges of biscuits are golden brown. Sprinkle each with chopped parsley; lightly press into filling. Remove biscuit cups from pan; serve immediately.
Recipe and Photo: Pillsbury