Jump to recipe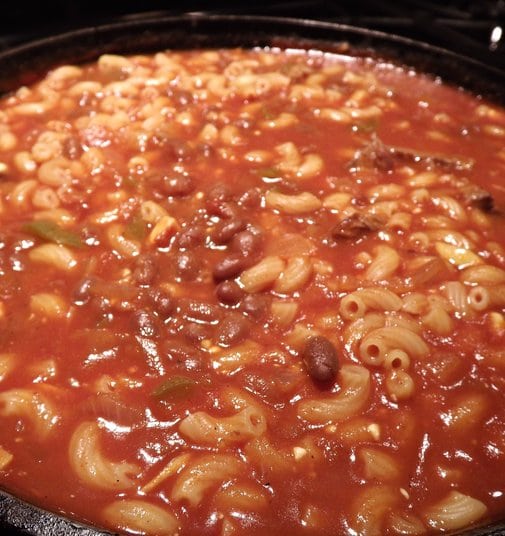 Cowboy Soup

Ingredients
1 jalapeño – chopped with seeds
3 cloves garlic – chopped
1 red onion – chopped
28 oz. can pork and beans with molasses
28 oz. can tomato puree
3 – 4 cups chicken broth – (depending on how thick to would like this)
1 tablespoon soy sauce
1 tablespoon Worcestershire sauce
1 tsp. paprika
1 tsp. cumin
1 tsp. salt
1 tsp. cayenne pepper
1 tablespoon brown sugar
1 cup left over steak (or any left over meat or chicken) – sliced thin
2 tablespoons olive oil
½ lb. you favorite noodles
Instructions
Heat a cast iron pot with the olive oil.
Add the jalapeño, garlic and red onion and sauté until the onion is soft and garlic fragrant.
When this is accomplished add the tomato puree and the pork and beans; continue to gently simmer.
Add the chicken broth, soy sauce, Worcestershire sauce and the seasonings.
Continue to gently simmer for 25 – 30 minutes.
Add the left over steak and once again continue to gently simmer.
Prepare the noodles as directed.
Place the noodles in a bowl and top with the soup.
Recipe and Photo: Foodista / CC BY