Jump to recipe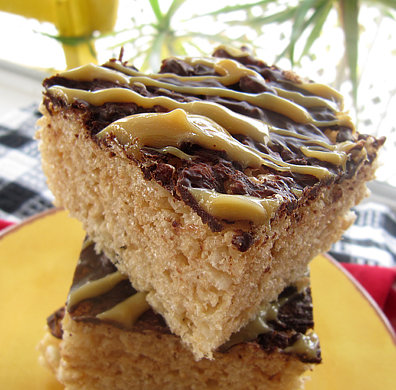 Ingredients
½ cup unsalted butter
16 ounce bag marshmallows
½ teaspoon kosher salt
½ teaspoon vanilla extract
11 ½ cups crisped rice cereal
14 ounce can sweetened condensed milk
2/3 cup semisweet or dark chocolate chips
2 tablespoons heavy cream
Instructions
Pour a can of sweetened condensed milk in a pie pan, sprinkling a bit of sea salt, covering with aluminum foil, then placing in a larger baking dish filled halfway with water and baking at 425 for about an hour, hour and fifteen minutes.
Stir the mixture occasionally while it bakes, and add more water if it evaporates during the process.
You want the mixture to have a nice brown color.
But feel free to use whatever method works for you.
Grease a 9×13 pan, or line with parchment paper.
Melt butter over medium-low heat in large pot.
Add the marshmallows and stir until they have melted.
Mix in salt and vanilla extract and take off heat.
Stir rice cereal into the melted marshmallow mixture and then press into prepared pan.
Let cool.
Using a double boiler or microwave, carefully melt the chocolate chips with the heavy cream.
Stir the mixture until the chocolate chips have all melted.
Take off heat and brush onto the rice krispies.
Drizzle the dulce de leche over the layer of chocolate.
If feeling really indulgent, we will press half of the rice krispie mixture into the pan, then pile on a layer of chocolate and a layer of dulce de leche, then put the remaining rice krispie mixture into the pan.
Recipe and Photo: Foodista / CC BY