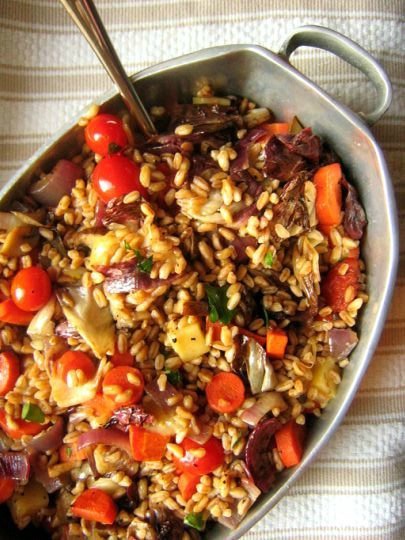 Ingredients
2 tbsp olive oil
1½ cup chopped celery
1 clove garlic, minced
1 large onion, diced
1 sweet red pepper, diced
2 cup cubed fresh butternut squash or pumpkin
3 cup vegetable stock
salt to taste
½ tsp turmeric
½ tsp cumin
1? cups Israeli couscous
2½ cups water
1 cup thinly sliced carrots
1 cup sliced zucchini
½ cup raisins
¼ cup sunflower seeds, shells removed
Instructions
In a large skillet, heat oil over medium-high heat.
Add celery, garlic, onion, red pepper, and squash.
Saute, stirring continually, until onions are translucent, about 5 minutes.
Add vegetable stock, salt, turmeric, and cumin, and continue cooking, stirring often, for about 15 minutes.
In a medium skillet, toast couscous over medium-high heat, stirring often, for 3 to 5 minutes.
Add water and simmer for 10 to 15 minutes, stirring occasionally, until water is absorbed and couscous is tender.
Add carrots, zucchini, and raisins to simmering vegetable mixture and cook until carrots are tender, about 10 minutes.
Sprinkle with sunflower kernels and serve with couscous.
https://stlcooks.com/couscous-with-vegetables/
Recipe and Photo: recipes.wikia.com / CC BY-SA