Jump to recipe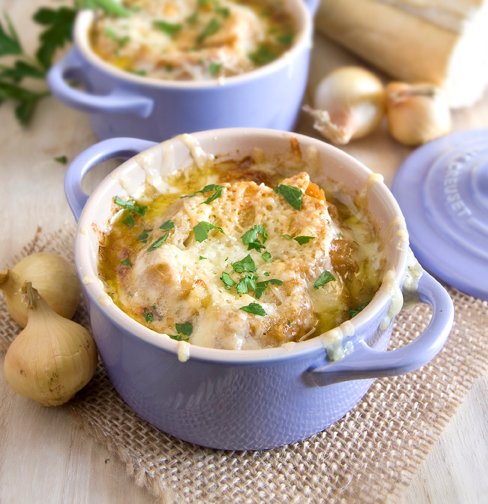 Classic French onion soup. The perfect cure to a cold winter day
Classic French Onion Soup

Classic French onion soup. The perfect cure to a cold winter day

Ingredients
¼ cup salted butter
4-6 yellow onions, finely sliced
¼ Tsp. flour
½ cup sherry
5 cups beef broth
3 sprigs fresh thyme
3 sprigs fresh parsley
1 bay leaf
salt and pepper to taste
4 slices of a crusty French baguette
1 cup gruyere cheese, shredded
Instructions
Preheat oven to 400
In a large Dutch oven, melt butter over medium heat.
Add onions to the pot and sprinkle with flour. Reduce heat to medium low and cook for 45 minutes stirring occasionally. If the onions are cooking too quickly, reduce heat.
When the onions are tender and golden in colour, de-glaze the pan with sherry.
Pour beef broth into the pot and bring to a boil over medium heat. Add herbs, salt and pepper to taste.
Reduce heat and simmer for 15 minutes.
Spray a cookie sheet with cooking spray. Butter slices of French bread and bake in the oven for 5-10 minutes until very dry. Set aside.
Remove herb stalks and bay leaf.
Ladle soup portions into four oven safe ramekins. Top with crusty French bread and sprinkle with cheese. Place ramekins on a cookie sheet and bake uncovered at 400 for 5-10 minutes until cheese is bubbling. Broil for one minute more to brown the top.
Serve warm.
Recipe and Photo: Foodista / CC BY