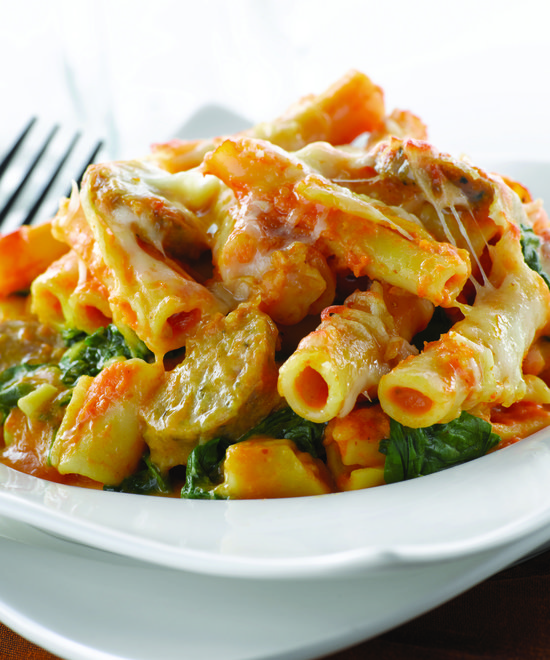 Baked Ziti with Pumpkin and Sausage
Ingredients
4 cups dry regular or whole-wheat ziti
1 can (15 ounces) Pumpkin
2 tablespoons all-purpose flour
1 teaspoon garlic powder
1/2 teaspoon salt
1/4 teaspoon ground nutmeg
Pinch cayenne pepper
1 can (12 ounces) Evaporated Fat Free Milk
4 links (12 ounces) fully cooked Italian-seasoned chicken sausage, cut into 1/4–inch slices
1 package (6 ounces) or about 4 cups pre-washed baby spinach
1 cup (4 ounces) shredded part-skim or 2% milk reduced-fat mozzarella cheese
1/2 cup (1.5 ounces) shredded Parmesan cheese
Instructions
Preheat oven to 425°F. Spray 4-quart baking dish with nonstick cooking spray.
Prepare pasta according to package directions. Reserve 1/2 cup pasta cooking water and set aside for later use. Drain pasta; return to cooking pot.
Meanwhile, combine pumpkin, flour, garlic powder, salt, nutmeg and cayenne pepper in medium skillet over medium heat. Slowly add evaporated milk, stirring until smooth. Cook, stirring occasionally, for 2 to 3 minutes or until mixture begins to thicken slightly. Pour over pasta in pot. Add sausage and reserved pasta cooking water; stir well.
Spread half of pasta mixture into prepared baking dish. Top with spinach. Cover with remaining pasta mixture. Lightly spray piece of foil with nonstick cooking spray. Cover ziti with foil, greased side down.
Bake for 20 minutes or until heated through. Combine mozzarella and Parmesan cheeses in small bowl. Remove foil; sprinkle with cheese mixture. Bake, uncovered, for an additional 5 minutes or until cheese is melted.
https://stlcooks.com/baked-ziti-with-pumpkin-and-sausage/
Recipe and Photo: CMI