Jump to recipe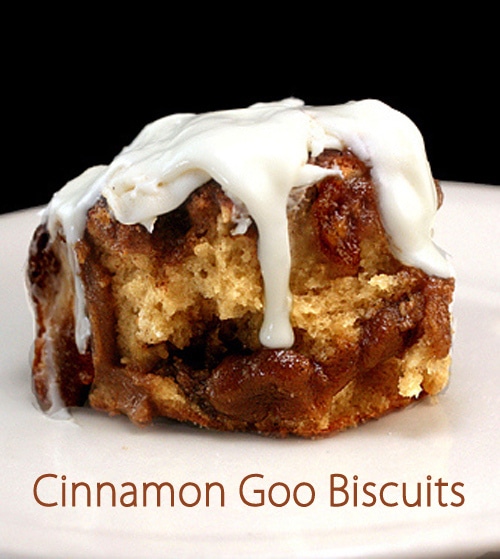 Cinnamon Goo Biscuits with Cream Cheese Frosting Glaze

Notes
To make cinnamon sugar, combine 1/2 cup sugar and 1 1/2 tablespoons cinnamon. Store in a clean, airtight jar.

Ingredients
Cinnamon Goo Filling
1/2 cup packed dark brown sugar
1/2 cup packed light brown sugar
1 stick (4 ounces) unsalted butter
1 to 2 tablespoons heavy cream
1 to 2 tablespoons ground cinnamon (taste before adding more)
Topping
3 tablespoons melted butter
cinnamon sugar*
Cream Cheese Frosting Glaze
4 ounces cream cheese (half a package), softened
1/4 cup butter, softened
1 1/2 cups confectioners' sugar
1/2 teaspoon vanilla extract
1/8 teaspoon salt
2-5 tablespoons of milk, depending on how thick or thin you want it.
Instructions
Make Cinnamon Goo. Melt the butter over low heat in a medium saucepan, Stir in the sugars and cook until dissolved. It will separate and look ruined, but don't worry, take off the heat and stir in the heavy cream until smooth.
For full recipe instructions, visit Parsley, Sage, and Sweet by clicking here!
Recipe and Photo: Parsley, Sweet, and Sage / CC BY-ND