Jump to recipe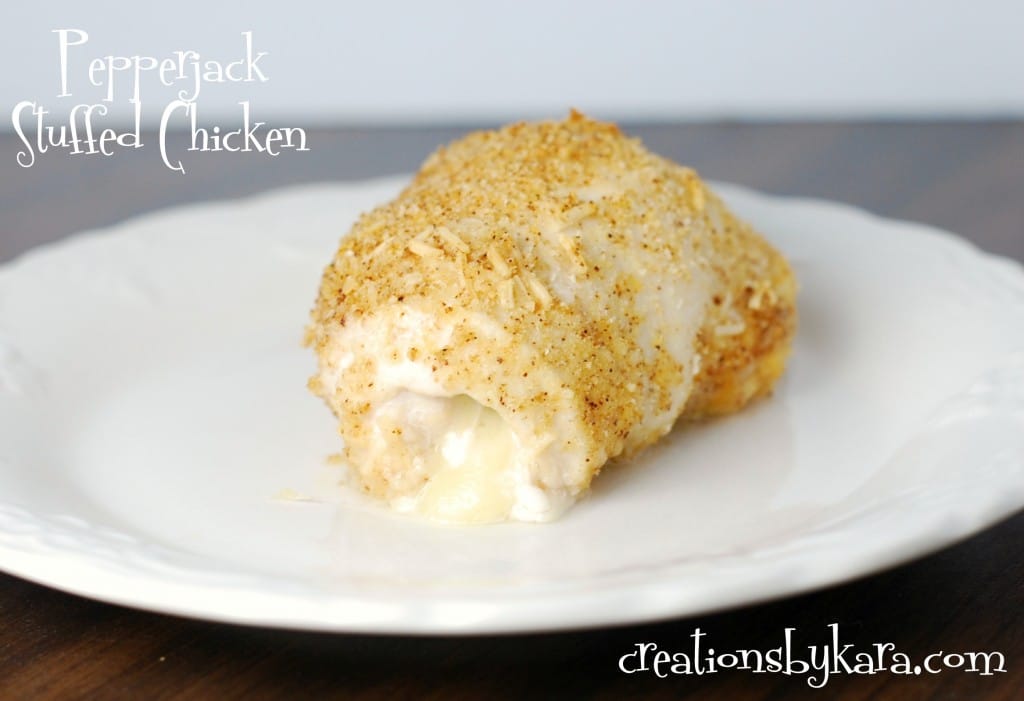 Pepper Jack Stuffed Chicken

Notes
I lined my pan with foil for easier cleanup.

Some of the cheese will leak out. I just scooped it up and served it with the chicken. No big deal.

Ingredients
6 boneless skinless chicken breasts
6 oz Pepper Jack cheese, cut into 1/2 x 2" strips
1/2 cup dry bread crumbs
1/4 cup Parmesan cheese
1 tsp chili powder
1/4 tsp salt
1/2 tsp cumin
1/2 cup flour
1/4 cup butter, melted
Instructions
Flatten chicken to 1/8" thick. Place a cheese stick in the middle and wrap up. Tuck ends in and secure with toothpick. Combine bread crumbs, Parmesan, chili powder, salt, and cumin in a small shallow bowl. Place butter in another bowl, and flour in a third bowl. Roll chicken in flour, then dip in butter and roll in crumb mixture. Place in a well greased 9×13? pan. Bake uncovered at 400° for about 25 minutes or till juice runs clear. Pull out toothpicks before serving.
Recipe and Photo: Creations By Kara / CC BY-NC-ND