Jump to recipe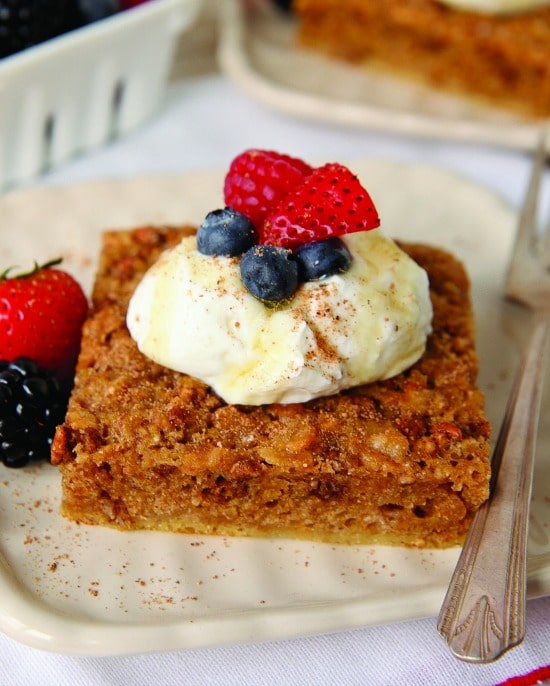 Cinnamon Breakfast Squares with Yogurt and Berries

Ingredients
1 cup Honey Bunches of Oats Morning Energy Cinnamon Crunch cereal
1/3 cup whole wheat flour
1/2 teaspoon baking powder
1/4 teaspoon salt
3 tablespoons sugar
1/2 teaspoon cinnamon
3 eggs
1/2 cup nonfat milk
2 tablespoons melted butter, cooled
1 teaspoon vanilla
3/4 cup (6 ounces) Greek yogurt
3 cups fresh berries (blackberries, raspberries, blueberries, strawberries) or favorite fruit of choice
Honey, for drizzling
Nutmeg or cinnamon, for sprinkling
Instructions
Heat oven to 425°F. Lightly butter and flour 8-inch square pan, or coat lightly with nonstick cooking spray. In mixing bowl, stir together cereal, flour, baking powder, salt, sugar and cinnamon.
While stirring, slightly crush cereal using back of spoon or rubber scraper; set aside. In another bowl, beat eggs until well blended. Add milk, melted butter and vanilla; mix well.
Combine egg mixture with flour mixture. Pour batter (it will be thin) into prepared baking pan.
Bake for 18 to 20 minutes or until it is set when lightly touched in middle. Remove from oven and set on wire rack to cool for 10 minutes.
To serve, cut into 6 equal-sized bars and place on serving plates. Top each square with a dollop of Greek yogurt, surround with fruit and drizzle with honey. Sprinkle with nutmeg or cinnamon and serve immediately.
Source: Honey Bunches of Oats