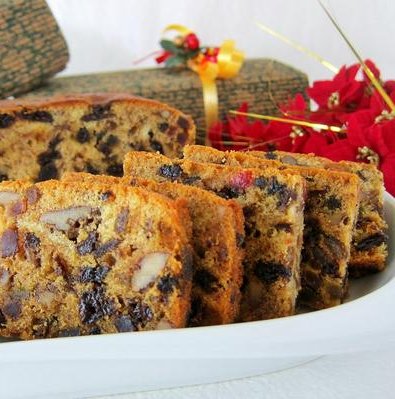 Ingredients
250 grams Butter
125 grams Sugar
4 Eggs
200 grams Plain flour (sifted with baking powder)
1/2 teaspoon Baking powder
1/2 teaspoon Mixed spice
500 grams Mixed dried fruit
100 grams Pitted prune- cut to small pieces
100 grams Walnut, chop to small pieces
2 tablespoons Rum
2 tablespoons Orange juice
1 Orange zest from orange
1 teaspoon Vanilla extract
Instructions
Line a 8? square cake tin with two layers of parchment paper, bottom and sides of cake tin
In a large bowl add mixed dried fruit and pitted prune together with 8 tbsp of rum and mix well, cover with cling wrap until next day.
Beat butter and sugar till light and fluffy, slowly add in rum, orange juice, orange zest and vanilla extract, mix well.
Add eggs, one at a time and scrape bowl.
Add 1/4 portion of flour to the mixed dried fruit. Slowly add 3/4 portion of flour and mixed spice to butter mixture, mix well. Stop machine. Pour in mixed dried fruit and chopped walnut, mix well with a rubber spatula then pour into cake tin. Bang tin on table once to settle the content.
Bake at preheated oven at 160C for 1 1/2 hour. **After about 30-40 mins when the cake starts to turn brown, cover cake with foil loosely on top and continue baking.
Pour 3-4 tbsp of rum on to Fruit Cake as soon as it comes from the oven.
Leave cake to cool, turn out from cake tin and wrap with cling wrap and store in the fridge.
Pour 2-3 tbsp of rum on cake every three days until it is ready to serve or giveaway as Christmas gift.
https://stlcooks.com/christmas-fruit-cake/
Recipe and Photo: Foodista / CC BY