Jump to recipe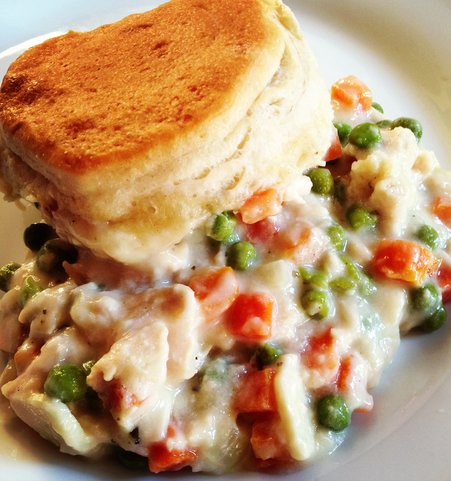 Turkey Pot Pie

Ingredients
1 Tbsp olive oil
4 Tbsp butter
1 small onion, diced
4 cloves garlic, sliced
2-3 tsp fresh rosemary, chopped
4 Tbsp flour
approx 3 cups turkey, diced or shredded
2 cups frozen peas and carrots
4 cups milk, slightly warmed in a small pot
1 can of Pillsbury Grands Biscuits
Instructions
Preheat oven to 350 degrees.
In a large saute pan, over medium low heat, add the olive oil, butter, onion, garlic and rosemary. Cook until the onions and garlic are softened and the rosemary is fragrant.
Stir in the flour to coat and cook for a minute or two. Add the milk and whisk until smooth. Allow to simmer for about 8-10 minutes until slightly thickened.
Once the sauce has thickened, add in the turkey, peas and carrots. Simmer for another 5 minutes.
Pour the pot pie filling into a pan (note: I should have used something a little smaller since i didn't have enough biscuits to cover completely). Place the biscuits over top. If you are looking for a thinner crust cut each biscuit in half to make two thinner rounds.
Bake for approx 15 minutes or until the filling is bubbly and the biscuits are golden.
Recipe and Photo: Foodista / CC BY