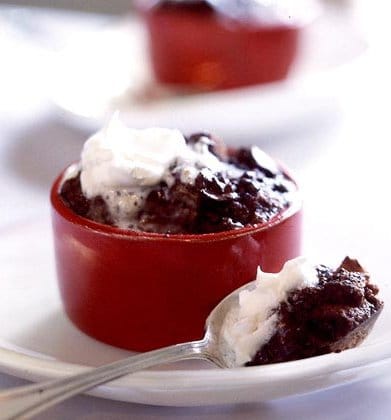 Chocolate Chunk Bread Puddings
Ingredients
1 3/4 cups (1/2–inch) cubed Hawaiian sweet bread
2/3 cup 2% reduced-fat milk
2 tablespoons sugar
1 1/2 tablespoons unsweetened cocoa
1 tablespoon Kahlúa (coffee-flavored liqueur)
1/2 teaspoon vanilla extract
1 large egg, lightly beaten
Cooking spray
1 ounce semisweet chocolate, coarsely chopped
2 tablespoons whipped cream
Instructions
Preheat oven to 350°.
Arrange bread cubes in a single layer on a baking sheet. Bake at 350° for 5 minutes or until toasted. Remove bread from oven; decrease oven temperature to 325°.
Combine milk and next 5 ingredients (milk through egg) in a medium bowl, stirring well with a whisk. Add bread, tossing gently to coat. Cover and chill 30 minutes or up to 4 hours.
Divide half of bread mixture evenly between 2 (6-ounce) ramekins or custard cups coated with cooking spray; sprinkle evenly with half of chocolate. Divide remaining bread mixture between ramekins; top with remaining chocolate.
Place ramekins in an 8-inch square baking pan; add hot water to pan to a depth of 1 inch. Bake at 325° for 35 minutes or until set. Serve each pudding warm with 1 tablespoon whipped topping.
https://stlcooks.com/chocolate-chunk-bread-puddings/
Recipe and Photo: Peggy's Recipe Share / CC BY-SA