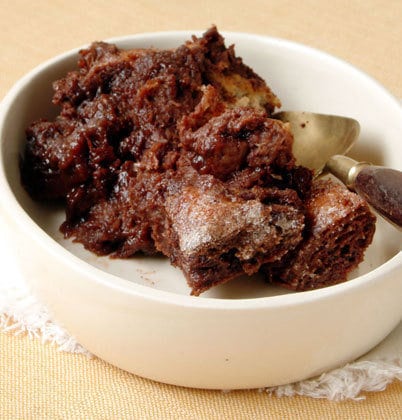 Ingredients
2 pints heavy cream
1 cup unsweetened cocoa powder
8 eggs
2 egg yolks
1½ cups sugar
6 croissants
½ cup semisweet chocolate chips
vanilla ice cream
Instructions
In a large saucepan over a medium-high flame, bring cream just to a boil.
Remove pan from heat and whisk in cocoa.
Set aside to cool to room temperature.
Preheat oven to 350°F.
In a large bowl, whisk together eggs, yolks, and sugar.
Pour cream mixture into egg mixture and whisk until well blended.
Break croissants into 1½-inch pieces and line bottom of a 9? x 13? glass baking dish.
Stir chocolate chips into cream mixture and pour over croissants.
Bake 50 to 60 minutes, until still jiggly in center.
Cool on a rack 30 minutes.
Serve warm with vanilla ice cream.
https://stlcooks.com/chocolate-bread-pudding/
Recipe: desserts.wikia.com / CC BY-SA
Photo: Peggy's Recipe Share / CC BY-SA