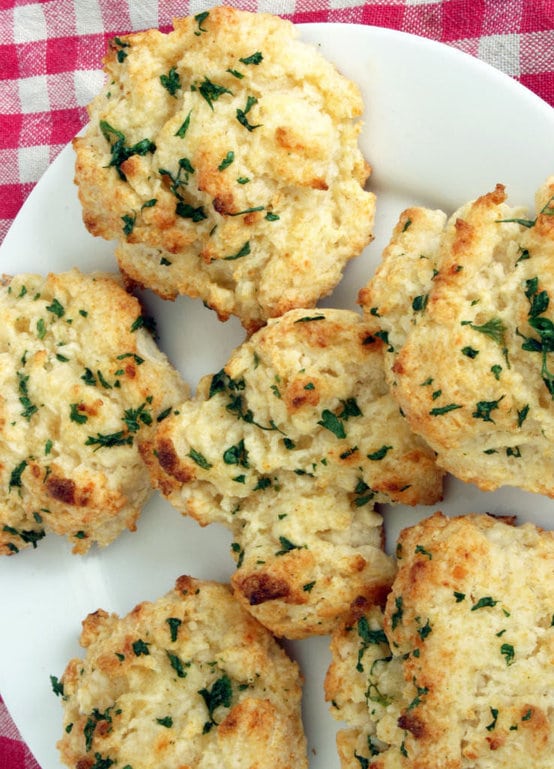 Recipe: Chipotle Cheddar Biscuits
Ingredients
6 tablespoons butter
1 clove garlic, pressed
1 tablespoon snipped chives
2 teaspoons finely minced parsley
3 cups biscuit mix (such as Bisquick)
1 1/4 cups cold water
1/4 cup chipotle purée (see note)
1 1/2 cups shredded sharp Cheddar cheese
Instructions
Preheat oven to 375 degrees. Melt butter; stir in garlic, chives and parsley. Set aside.
Place biscuit mix into a large bowl. Add water, chipotle purée and cheese. Fold gently to mix, but do not overbeat or the biscuits will be tough.
Use a 2-inch ice cream scoop to place biscuits about 2 inches apart on an ungreased or parchment-lined baking sheet. (Biscuits will spread slightly.) Bake 15 to 18 minutes, until biscuits are dry on top and spring back when touched lightly.
As soon as biscuits are removed from the oven, brush with herb butter. Serve immediately.
Quick notes
To make chipotle purée, process a can of chipotle peppers in adobo sauce in a blender or food processor. Leftover purée may be frozen for future use. (Freeze the purée in custard cups or disposable plastic containers, such as deli tubs.) Canned chipotles in sauce are readily available in grocery stores that sell Mexican foods (We normally purchase ours at the Global Market in Kirkwood).
Recipe Courtesy of Kota Wood Fire Grill at Grand Center
Photo Courtesy of scoochmaroo / CC BY-NC-SA