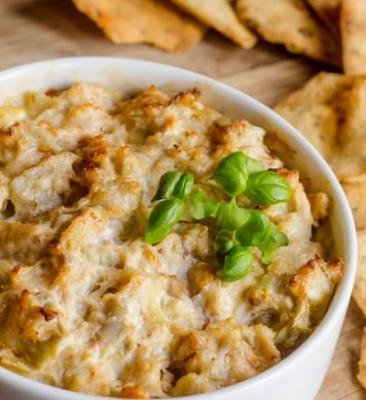 Ingredients
3 or 4 tablespoons mayonnaise
2 – 8 oz. cream cheese packages, softened
2 – 6 oz. cans lump crab meat
2 cups cheddar cheese, shredded
1 1/2 tablespoons fresh lemon juice
2 tablespoons Worcestershire sauce
2 tablespoons Cholula Chili Lime Hot Sauce
Paprika, lime wheel and parsley, for garnish
Toasted crostini or crackers
Instructions
Preheat oven to 350?F
In a medium bowl, mix the mayonnaise, cream cheese, crab meat, cheddar cheese, lemon juice, Worcestershire and Cholula Chili Lime Hot Sauce. Transfer to a shallow baking dish (approximately 9" x 13"). Top with paprika.
Bake in the preheated oven until golden brown, about 30 minutes. Let stand 5 minutes before serving. Garnish with lime wheel and parsley. Serve with toasted crostini or crackers.
https://stlcooks.com/chili-lime-hot-crab-dip/
Recipe and Photo: Foodista / CC BY