Jump to recipe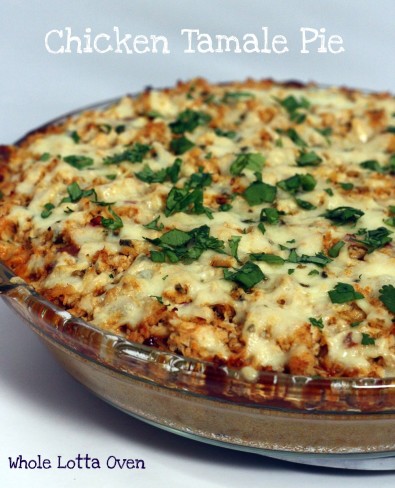 Chicken Tamale Pie

Ingredients
1/3 cup milk
1 egg
1 1/2 tablespoons taco seasoning, divided
1/4 teaspoon red pepper flakes
1 ( 14.75oz) can cream-style corn
1 ( 8.5oz) box Jiffy corn muffin mix
1 ( 4oz) can chopped green chiles, drained
1 ( 10oz) can red enchilada sauce
2 cups cooked chicken, shredded
3/4 cup Pepper Jack cheese
Cilantro, for garnish and topping
Instructions
Preheat oven to 400 degrees.
Combine milk, egg, 1/2 tablespoon taco seasoning, red pepper flakes, corn, jiffy, and green chiles into a large bowl, stirring until moist. Pour mixture into a greased and rounded pie plate.
Bake for 20 to 30 minutes. While corn is baking, toss the chicken with remaining tablespoons of taco seasoning. When corn is done (it will be just barely set and golden brown) poke entire surface liberally with a fork. Pour enchilada sauce over top, letting the sauce sink into the corn bread. Top with chicken and sprinkle with cheese.
Place back in oven for 15 minutes or until cheese is melted.
Remove from oven and let stand for 5 minutes.
Top with cilantro before serving.
Recipe and Photo: Whole Lotta Oven / CC BY