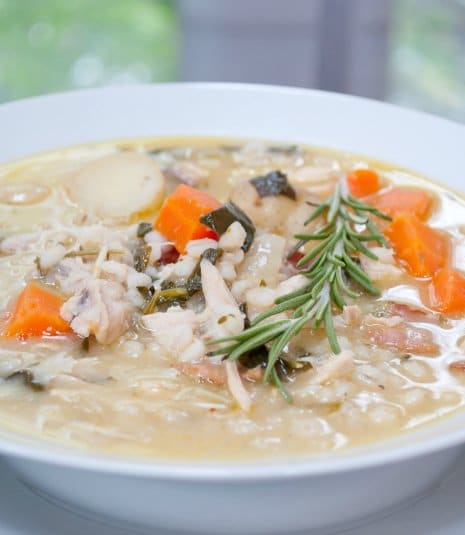 Chicken Stew with Spinach and Barley
Ingredients
2 slices thick bacon, diced
1 medium yellow onion, large diced
1 large carrot, sliced
2 stalks celery, large diced
1 large sprig fresh thyme
2 cloves garlic, minced
1 stem of fresh rosemary, about the length of your thumb
healthy pinch of crushed red pepper
1 large bay leaf
2 tbsp flour
1 quart (4 cups) chicken stock
1/2 cup pearl barley
2 cups roast chicken meat, chopped
1 large russet potato, scrubbed but unpeeled, sliced
A greedy handful of spinach (about 2 cups), rinsed and dried, chopped into bite-size pieces
Juice of half a lemon (about 2 tbsp)
Freshly chopped parsley or other minced herbs, for garnish
Instructions
In a large pot, cook the bacon over medium heat, stirring occasionally, until the bacon is just beginning to crisp and most of the fat has been rendered.
Reduce the heat to medium-low and add the onions, carrots, and celery. Sprinkle with a generous pinch of kosher salt, and give the whole thing a stir. Cover the pot, and allow the vegetables to sweat until the onions appear soft and translucent, about 5 minutes.
Increase the heat again to medium, and stir in the garlic, fresh herbs, and crushed red pepper. Stir frequently until the garlic is fragrant and the vegetables are beginning to sizzle. Sprinkle the vegetables with the flour, and continue to cook for another minute or so, stirring to incorporate the flour.
Add the chicken stock, stirring vigorously to prevent lumps, and bring the liquid to a bubble. Add the barley and bay leaf, and reduce the heat until the broth is at a low simmer. Leave the soup to simmer for about 30 to 40 minutes, until the barley is tender.
Add the chopped chicken and sliced potatoes, and cook for another 10 to 15 minutes, until the potatoes are just tender. At this point, check for seasoning, and adjust the salt and pepper to taste.
When the potatoes are just tender, stir in the lemon juice and spinach, and allow the spinach to wilt in the hot liquid for about 1 minute.
Serve immediately garnished with the fresh parsley.
https://stlcooks.com/chicken-stew-with-spinach-and-barley/
Recipe and Photo: Feeding Darragh / CC BY-SA