Jump to recipe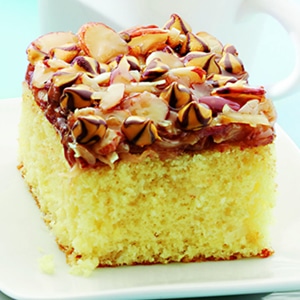 Caramel-Almond Coconut Cake

Ingredients
Cake
1 package (18.25 ounces) yellow cake mix with pudding
3 large eggs
1 1/4 cups water
1/3 cup vegetable oil
1/2 cup flaked coconut
Caramel-Almond Topping
1/2 cup (1 stick) butter
1/2 cup caramel ice cream topping
3 tablespoons heavy whipping cream
1 cup (3 ounces) sliced almonds
1 cup flaked coconut
1 cup (6 ounces) Nestlé Toll House Swirled Milk Chocolate & Caramel Morsels
Instructions
For Cake – PREHEAT oven to 350°F. Grease and flour 13 x 9-inch baking pan.
BEAT cake mix, eggs, water and oil in large mixer bowl on low speed 30 seconds. Beat on high speed 2 minutes. Stir in coconut. Spoon into prepared baking pan.
BAKE 28 to 35 minutes or just until wooden pick inserted in center comes out clean.
For Caramel-Almond Topping – WHILE cake is baking, prepare topping. Melt butter in medium saucepan over medium-low heat. Stir in caramel topping and cream. Stir in almonds and coconut. Increase heat to medium and bring mixture to full boil. Boil 5 minutes or until thick but still spreading consistency, stirring constantly. Carefully spread mixture over cake just as it comes out of oven. Sprinkle morsels over cake while still hot. Cool completely in pan on wire rack.
Recipe and Photo: Nestlé Toll House Morsels