Jump to recipe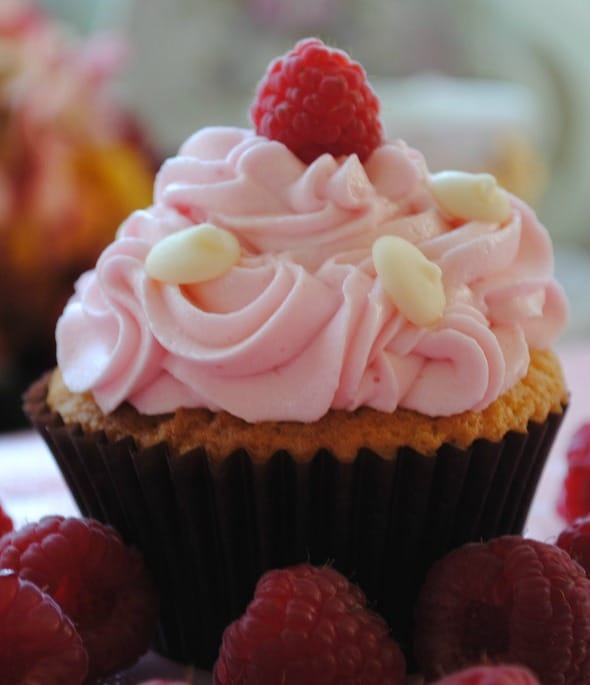 Ingredients
1 (16.5 ounce) package Duncan Hines® White Cake Mix
3 large egg whites
2 tablespoons vegetable oil
1 1/3 cups water
1 (16 ounce) can Duncan Hines® Frosting Creations™ Frosting Starter
1 (3 gram) packet Duncan Hines® White Chocolate Raspberry Flavor Mix
1/2 cup raspberry pie filling
White chocolate curls
Instructions
Preheat oven to 350 degrees F. Place cupcake liners in muffin pans.
Prepare cake batter as directed on package.
Pour batter into cupcake liners, filling them no more than two-thirds full.
Bake 18 to 24 minutes or until toothpick inserted into cupcakes comes out clean. Let cupcakes cool for 5 minutes, then remove from pans and cool completely.
Use paring knife or apple corer to remove a small, 1? deep circle from the center of each cupcake.
Place 1 teaspoon of Raspberry Pie Filling in the cavity of each cupcake.
Pour packet of Duncan Hines® Frosting Creations™ White Chocolatey Raspberry Flavor Mix into can of Duncan Hines® Frosting Creations™ Frosting Starter. Stir until evenly blended.
Frost top of cupcakes with the White Chocolatey Raspberry frosting you just created and garnish with white chocolate curls.
Photo: DixieBelleCupcakeCafe / CC BY-ND