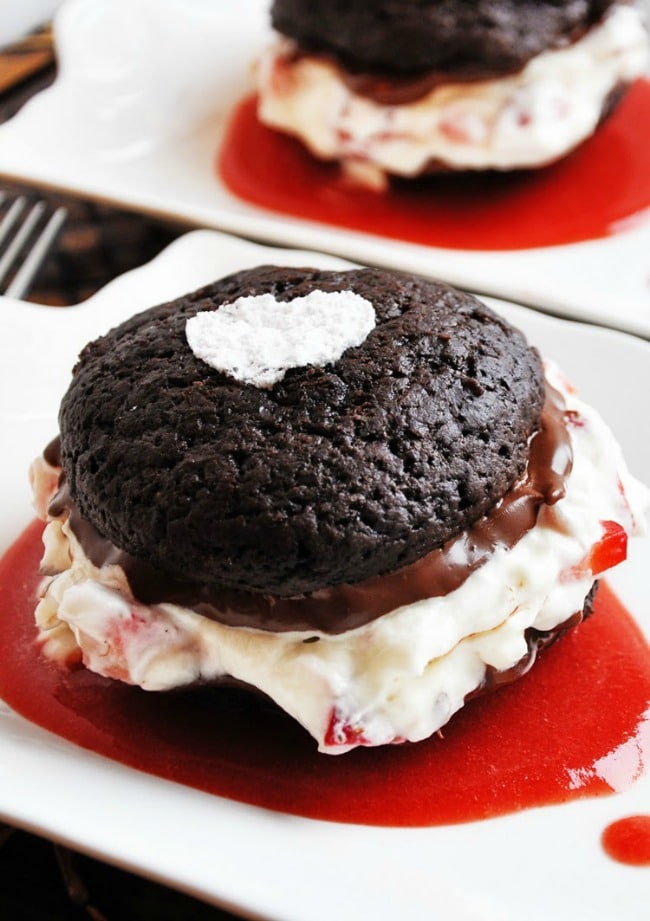 Decadent Double-Stuffed Strawberry and Chocolate Whoopie Pies in Strawberry Pools
Ingredients
Cakes:

Nonstick cooking spray
1/2 cup butter
1 cup packed light brown sugar
1 large egg
1 teaspoon vanilla
1 teaspoon baking powder
1/2 teaspoon baking soda
1/2 teaspoon salt
1/2 cup dark cocoa powder
2 1/4 cups all-purpose flour
1 cup buttermilk

Filling:

1 cup chilled heavy cream
1/4 cup powdered sugar
1 teaspoon vanilla
4 ounces mascarpone or cream cheese, softened to room temperature
1 (7–ounce) jar marshmallow cream
1 1/2 cups chopped strawberries

Strawberry Sauce:

3 cups chopped strawberries
3 tablespoons packed light brown sugar
1 tablespoon lemon juice

Assembly

1 cup chocolate hazelnut spread (Nutella)
Powdered sugar for dusting
Sliced strawberries for garnish, if desired
Instructions
Preheat the oven to 350 degrees. Spray two large baking sheets with nonstick cooking spray.
In a large mixing bowl, beat together the butter, 1 cup light brown sugar, the egg and vanilla until light and fluffy.
Combine the baking powder, baking soda, salt, cocoa powder and flour in a large bowl.
Add the flour mixture to the butter mixture alternately with the buttermilk, beating on medium speed until combined, stopping to scrape down the sides several times.
Drop the dough by a 1/4 cup measure ice cream or cookie scoop onto the baking sheets spacing about 3 inches apart.
Bake for 15 minutes, until they're set and firm to the touch. Remove from oven, and cool on the pans
Meanwhile, beat the heavy cream, powdered sugar, and 1 teaspoon vanilla on high speed in a medium bowl until firm peaks form; set aside. In another bowl, beat the mascarpone cheese and marshmallow cream until smooth. Fold in the whipped cream, then 1 1/2 cups chopped strawberries. Refrigerate until needed.
To make the sauce, place 3 cups of chopped strawberries, 3 tablespoons light brown sugar, and the lemon juice in a medium saucepan. Heat over medium heat just until sugar is dissolved and juices are released, 2-3 minutes, stirring often. Pour the mixture into a blender and process until smooth. Strain through a fine wire mesh strainer discarding seeds and pulp. Keep sauce refrigerated until needed.
Spread the flat side of all the cakes with a thin layer of chocolate hazelnut topping (about 1 tablespoon). Place a large dollop of filling on half of the cakes, then top with the other half of the cakes, flat side in, pressing down slightly.
If desired, cut a heart shape out of a piece of paper and place on the top of each cake, centering the heart in the middle. Dust with a little powdered sugar to create a heart shape decoration.
To serve, spoon some of the strawberry sauce onto a plate creating a pool, then place a filled whoopie pie in the center. Garnish with sliced strawberries, if desired, and serve with a fork.
Notes
Heating the chocolate-hazelnut spread in the microwave for just 10-15 seconds, then stirring until smooth, makes it easier to spread on the cakes.
https://stlcooks.com/decadent-double-stuffed-strawberry-and-chocolate-whoopie-pies-in-strawberry-pools/
Recipe and Photo:
Lorie's Mississippi Kitchen
/
CC BY