Jump to recipe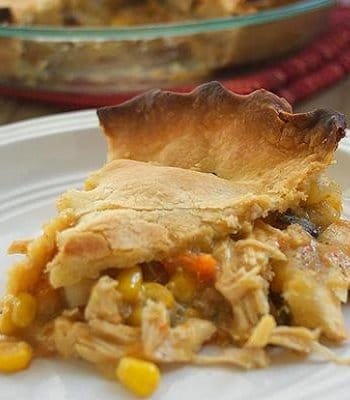 Crock Pot Chicken Pot Pie

Ingredients
4-5 frozen boneless, skinless chicken breasts
1 large can (family size) condensed cream of chicken soup
4-5 medium potatoes, peeled and diced
2.5 cups frozen vegetables – we prefer peas and carrots
Salt and Pepper to taste
4 pie crusts
1 egg white, or 1/4 cup melted butter to brush onto pie crusts
Instructions
In Crock Pot, combine chicken breasts, potatoes, frozen vegetables, cream of chicken soup and mix well. Add additional salt and pepper if desired.
Cook on low for 6-8 hours until chicken is fully cooked. Use a sturdy spoon to break up the chicken after cooking. Preheat oven to 400. Prepare pie crusts. Spoon chicken filling into pie crust.
Top with pie crust. Cut slits into the top crust to vent steam during baking. Cut excess crust from edges and pinch to seal.
Brush with egg white or melted butter and bake for 20-30 minutes until crust is fully cooked and golden brown on top.
Allow pies to cool for at least 10 minutes before cutting. Best served hot.
Recipe and Photo: Foodista / CC BY