Jump to recipe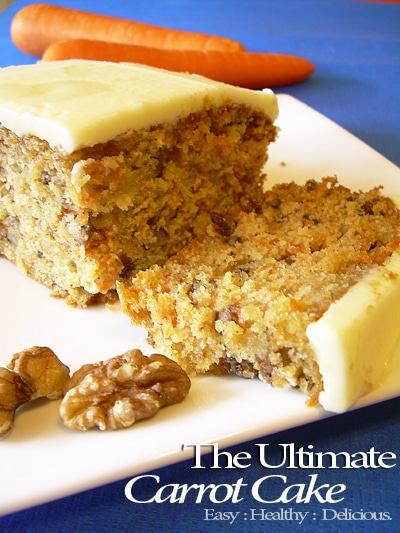 The Ultimate Carrot Cake

Ingredients
8 1/2 oz. carrots (grated)
4 1/4 oz. crushed pineapples (drained)
2 oz. raisins (lightly chopped)
2 oz. walnuts (toasted, cooled and chopped coarsely)
8 1/2 oz. self-raising flour
1/4 teaspoons cinnamon powder
1/4 teaspoons nutmeg powder
1/2 teaspoons baking soda
1/2 teaspoons baking powder
1/2 teaspoons vanilla extract
3 eggs
7 oz. castor sugar
180 ml cooking oil
Lemon Cream Cheese Frosting
1 oz. butter (room temperature)
1 oz. cream cheese (room temperature)
1 oz. icing sugar (sifted)
1 teaspoon lemon zest
Instructions
Sift the flour with baking soda and baking powder. Add castor sugar.
Beat eggs lightly in a separate bowl. Add in vanilla extract.
Pour egg mixture into the flour and stir well. Then add grated carrots followed by cooking oil. Add in the pineapple and stir well.
Then add in the raisins and walnuts.
Pour mixture into a greased and floured tray and bake in a preheated oven at 340F for 45 minutes.
Remove from oven and allow to stand to cool before applying a thin layer of frosting.
Cake is best served chilled.
Frosting
Beat cream cheese and butter in a bowl using a hand-held or an electric mixer. Beat on low speed till blended. Gradually add icing sugar (sifted) and continue beating until smooth.
Add vanilla extract and lemon zest and beat till well combined.
Recipe and Photo: Delicious Asian Food / CC BY