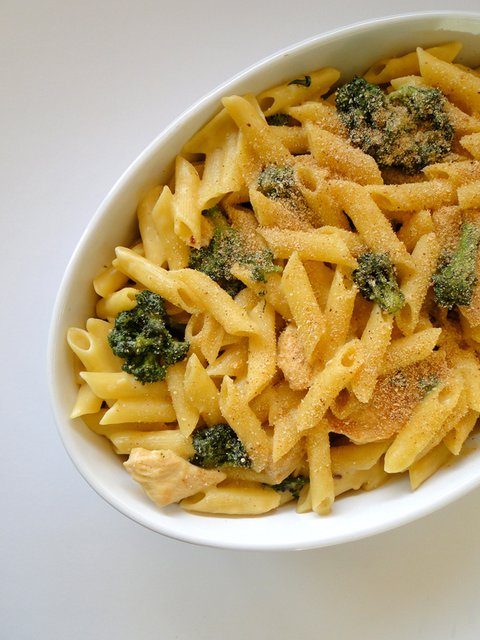 Chicken and Broccoli Pasta Bake
Ingredients
1 lb (500 g) penne
4 cloves garlic, crushed
1 tbsp olive oil
12 oz (350 g) broccoli florets
3 tbsp flour
2 tbsp butter
1 cup chicken broth
1 cup milk
12 oz (350 g) shredded chicken breasts
3 tbsp parmesan cheese
4 oz cheese (gruyere or cheddar)
2 tbsp breadcrumbs
Instructions
Cook penne in salted boiling water until al dente. Drain and set aside.
Heat the oil in a skillet and brown the chicken. Set aside.
In the same skillet, add the garlic and cook until golden. Add the broccoli florets and a little salt and sauté around 3 mn until they begin to soften. Set aside.
Preheat the oven at 375ºF (190ºC). Lightly oil a baking dish.
In a pot, heat the butter over medium-low heat, when melted, add the flour and stir well. Slowly whisk in the chicken broth until well combined on medium heat. Then add the milk, and bring to a boil. Simmer on medium heat, whisking until it thickens, around 5 mn. Season with salt and pepper. (Do not add a lot of salt as the broth is already salted).
Remove from heat and add the cheese. Mix well until the cheese melts.
Add the shredded chicken, broccoli and pasta to the sauce. Mix until evenly coated.
Pour in the baking dish and top with parmesan and breadcrumbs. Bake around 25 mn. Place under the broiler a few mn until lightly golden and crisp.
https://stlcooks.com/chicken-broccoli-pasta-bake/
Recipe and Photo: Chicho's Kitchen / CC BY-ND