Jump to recipe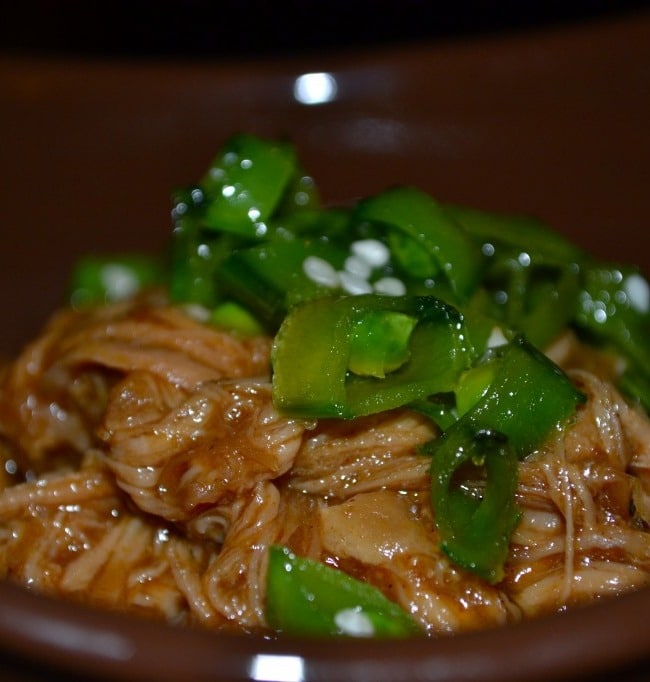 Slow Cooker Dim Sum Pulled Pork

Ingredients
Pork BBQ rub
2-2.5 lbs. pork tenderloin
1/4 cup canola oil
2 tablespoons brown sugar
1 tablespoon kosher salt
1 tablespoon garlic powder
1/2 tablespoon ground white pepper
1 1/2 tablespoons dry mustard
2 teaspoons paprika
Barbecue Pork Bun Sauce
1 teaspoon canola oil
1 small onion, diced
1 clove garlic, minced
2 tablespoons hoisin sauce, oyster sauce & sesame oil
1/4 cup ketchup, soy sauce and apple sauce
1 teaspoon ground ginger
2 tablespoons Thai chili sauce and dark brown sugar
1 bottle beer
1 16 oz bottle root beer
3 tablespoons cornstarch
1 tablespoon water
1 tablespoon hoisin sauce
Sweet Sesame Snap Peas
3 oz sugar snap peas
2 teaspoons butter
1/2 teaspoon salt
1/2 tsp sugar
sprinkle of sesame seeds
Instructions
Combine the rub ingredients in a bowl. Rub the paste all over the tenderloin, let it stand for 2 hours or overnight.
Saute onion in a saute pan for 3-5 minutes, add garlic and cook for another 30 sec-1 min. Add hoison sauce, oyster sauce, sesame oil, ketchup, soy sauce, apple sauce and ground ginger. Stir to combine.
Add chili sauce and brown sugar, stir to combine. Bring to a low simmer. Then add the beer. Simmer over medium-low heat for 12 minutes. Remove from heat and reserve. Refrigerate until needed.
Add pork tenderloin, bbq sauce & rootbeer to your slow cooker. Turn on low, cover and cook for about 10 hours. Remove lid, take tenderloin out of slow cooker and shred using two forks. Turn the slow cooker with sauce to high. Combine the cornstarch, water & hoison in a small bowl and whisk into sauce. Allow to thicken then add pork. Toss to coat & serve.
For the sugar snap peas…slice the sugar snap peas on a diagonal.
Saute the peas in the butter for approx 2 minutes. Add sugar and salt and saute for another 2 minutes or until crisp-tender.
Sprinkle peas with sesame seeds & serve.
Recipe and Photo: Foodista / CC BY