Jump to recipe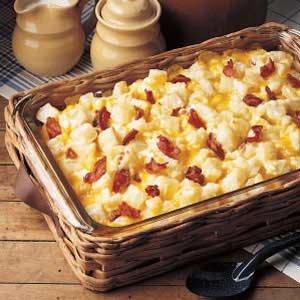 Cheesy Potato Ham Casserole

Ingredients
3 medium potatoes, peeled and thinly sliced
1 onion, sliced
2 hard-boiled eggs, chopped
¾ cup grated cheese
¼ cup cooked ham, chopped
½ cup milk
2 tablespoons chutney
¼ teaspoon paprika
freshly ground black pepper
herb salt
Instructions
Grease an oven-proof dish with half the potato and onion slices.
Sprinkle with salt and pepper.
Spread the cheese, ham, chutney and eggs over the potato slices.
Pour the milk over it.
Use the remaining potato and onion slices to make another layer.
Add the milk and sprinkle with paprika.
Bake in 350°F oven for about 30 minutes.
Recipe and Photo: glutenfreerecipes.wikia.com / CC BY-SA