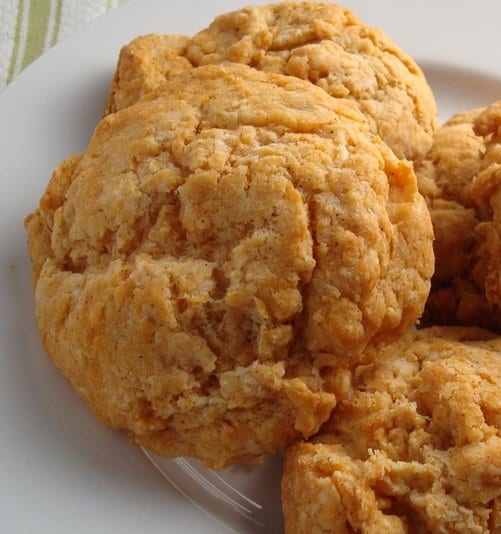 Ingredients
2 1/4 cups all-purpose flour
1 1/4 teaspoon baking powder
3/4 teaspoon baking soda
1 teaspoon salt
2 teaspoons sugar
3/4 teaspoon paprika, plus more for dusting
6 Tablespoons unsalted butter, cold, cut into pieces
1 heaping cup finely grated cheddar cheese
1 1/2 cups heavy cream
Instructions
Preheat the oven to 375 degrees. Line a baking sheet with parchment paper and set aside.
In a large bowl, whisk together the flour, baking powder, baking soda, salt, sugar and paprika. Using a pastry blender, or your fingers, cut the butter into the flour mixture until it resembles course meal with a few larger clumps remaining. Stir in the cheese with a fork.
Add the cream; using a rubber spatula, stir until the dough just comes together. The dough will be slightly sticky; don't over mix. Using a 1/2-cup measure (for giant biscuits) or a 1/4-cup or 1/3-cup for smaller biscuits, scoop mounds of dough about 1 1/2-inches apart of the prepared baking sheet. Lightly dust with paprika.
Bake, rotating the sheet halfway through baking, until golden brown, about 15 to 20 minutes. Slide parchment and biscuits onto a wire rack to cool or let biscuits cool on pan for 5 minutes before removing onto a wire rack with a spatula. Serve warm or at room temperature.
https://stlcooks.com/cheddar-drop-biscuits/
Recipe and Photo: Dishing Up Delights / CC BY-NC-ND