Jump to recipe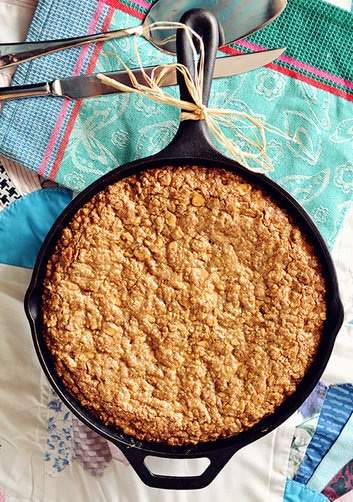 Cast Iron Butterscotch-Oatmeal Cookie Skillet With Butterscotch-Bourbon Drizzle

Ingredients
1/2 cup butter
1 cup all-purpose flour
1/2 teaspoon baking powder
1 teaspoon baking soda
1/2 teaspoon salt
1/2 cup shortening
1/3 cup sugar
1/3 cup packed dark brown sugar
2/3 cup packed light brown sugar
2 eggs
1 teaspoon vanilla
2 cups quick-cooking oats
2 cups butterscotch chips
1 1/4 cup chopped toasted pecans
Sauce:
1/2 cup butter
1 cup packed light brown sugar
1 cup heavy cream
3 tablespoons bourbon whiskey
1/2 teaspoon salt
1 teaspoon vanilla extract
Vanilla ice cream, if desired
Instructions
Preheat oven to 350 degrees. In a small heavy saucepan, heat 1/2 cup butter over medium heat until melted. Continue to cook for 3-4 minutes or until light brown and nutty smelling, stirring occasionally. Remove from heat and cool completely.
Stir together the flour, baking powder, baking soda, and 1/2 teaspoon salt; set aside. Beat the cooled butter, shortening, 1/3 cup sugar, the dark brown sugar, 2/3 cup light brown sugar, the eggs, and vanilla on medium speed until light and fluffy. Mix in flour mixture until combined. Stir in the oats, butterscotch chips and chopped pecans. Spread evenly in an ungreased 10-inch cast iron skillet. Bake for 30-35 minutes or until golden brown around edges and on top. Do not overbake. Cool for about 15 minutes before cutting.
Meanwhile, melt 1/2 cup butter in a medium heavy saucepan over medium heat. Add 1 cup light brown sugar, the cream, the bourbon, and 1/2 teaspoon salt and whisk until well blended. Bring to a boil, then reduce heat to rapid simmer and cook for five minutes, whisking occasionally. Remove from heat and stir in 1 teaspoon vanilla. Sauce will thicken as it cools.
To serve, slice warm cookie into 8-10 wedges. Place a scoop of vanilla ice cream on each slice if desired, then drizzle with the butterscotch-bourbon sauce. Store any remaining sauce in refrigerator.
Recipe and Photo: Lorie's Mississippi Kitchen / CC BY