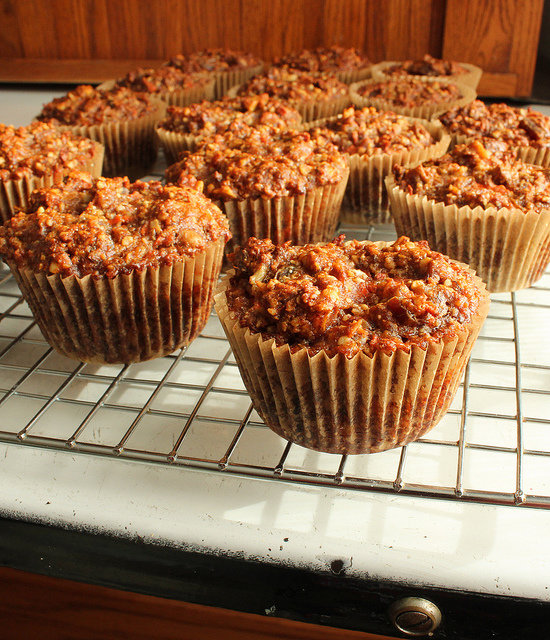 Ingredients
2 cups almond meal
2 t. baking soda
1/2 t. kosher salt
2 t. cinnamon
1/2 c. unsweetened, shredded coconut
4 oz. butter, softened
3 eggs
3 bananas, mashed (my bananas were huge, so I used 2)
2 T. honey
1 t. apple cider vinegar
1 c. pitted and chopped dates
2 medium carrots, shredded
1/2 cup chopped walnuts
Instructions
Preheat oven to 325, and line a muffin tin with papers.
In a large bowl, combine almond meal, baking soda, salt, cinnamon, and coconut and whisk well to combine. In a separate large bowl, beat the butter with an electric mixer (or by hand) until creamy and soft. Add eggs, bananas, honey, and cider vinegar and beat until well mixed.
Add the wet ingredients to the dry, and stir well to combine. Fold in the dates, carrots, and walnuts. Portion into muffin cups (you can fill them quite full, there isn't a lot of rise), and bake for 35-40 minutes until a tester comes out clean. Cool in the tins for 5 minutes before removing to a wire rack to cool completely.
https://stlcooks.com/carrot-banana-muffins/
Recipe and Photo: Cake Walk / CC BY-SA