Jump to recipe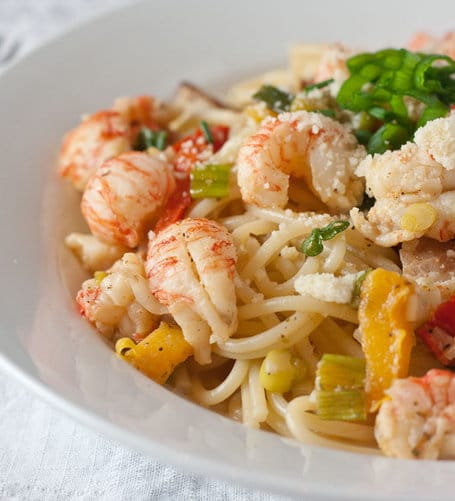 Cajun Lobster Pasta

Notes
If you are unable to get lobster in your area (or don't want to pay the high price for it), try using shrimp. This recipe will still come out beyond yummy!

Ingredients
3 strips of Bacon
3 cloves of Garlic, Minced
1 Bell Pepper, any Color, Chopped
3 Green Onions, Chopped
3/4 cup Chicken, Seafood, or Veggie Broth
1 teaspoon of Cajun Spice
1 teaspoon of Old Bay Seasoning
1/2 teaspoon of Onion Powder
1/2 teaspoon of Garlic Powder
1/2 teaspoon of Lemon Pepper
1/2 teaspoon of Oregano
1 pd of Lobster
1/8 teaspoon of Pepper
1/4 cup of Heavy Cream
Salt to Taste
Instructions
Cook up your bacon in a small frying pan over medium heat. Remove the bacon and drain off the fat, reserving about a tablespoon.
To the pan add in your garlic and pepper. Cook it up on medium heat for about two to three minutes.
Add in the green onions. Let cook for an additional minute.
Chop up your bacon and add it to the pan along with the broth. Love me some bacon.
Now add in your spices; the cajun, old bay, onion powder, garlic powder, lemon pepper, oregano, and pepper.
Allow the mixture to heat back up and then turn your heat down to medium low. Add in your lobster and allow it about three to five minutes to heat up completely.
Last up, add in your cream.
Serve your finished lobster over fresh cooked pasta with a few pinches of parmesan cheese and a sprinkle of chopped green onions over the top.
Recipe and Photo: Foodista / CC BY