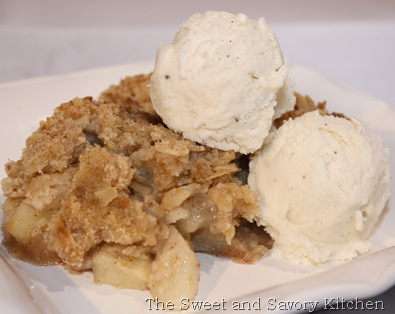 Ingredients
2 pounds ripe Bosc pears (about 4 pears)
2 pounds firm Macoun apples (about 6 apples)
1 teaspoon grated orange zest
1 teaspoon grated lemon zest
2 tablespoons freshly squeezed orange juice
2 tablespoons freshly squeezed lemon juice
1/2 cup granulated sugar
1/4 cup all-purpose flour
1 teaspoon ground cinnamon
1/2 teaspoon ground nutmeg
Vanilla Ice Cream, for topping

For the Topping:

1 1/2 cups all-purpose flour
3/4 cup granulated sugar
3/4 cup light brown sugar, packed
1/2 teaspoon kosher salt
1 cup old-fashioned oatmeal
2 sticks cold unsalted butter, diced
Instructions
Preheat oven to 350 degrees.
Peel, core, and cut the pears and apples into large chunks. Place the fruit in a large bowl and add the zest, juices, sugar, flour, cinnamon, and nutmeg. Pout into a 9 x 12 x 2 inch baking dish.

For the Topping:

Combine the flour, sugars, salt, oatmeal, and butter in the bowl of an electric mixer fitted with a paddle
attachment. Mix on low speed for 1 minute, until the mixture is in large crumbles. Sprinkle evenly over the fruit, covering completely.
Place the baking dish on a sheet pan and bake for 50 minutes to 1 hour, until the top is brown and the fruit is bubbly. Serve warm with vanilla ice cream!
https://stlcooks.com/apple-and-pear-crisp/
Recipe and Photo: The Sweet and Savory Kitchen / CC BY-SA