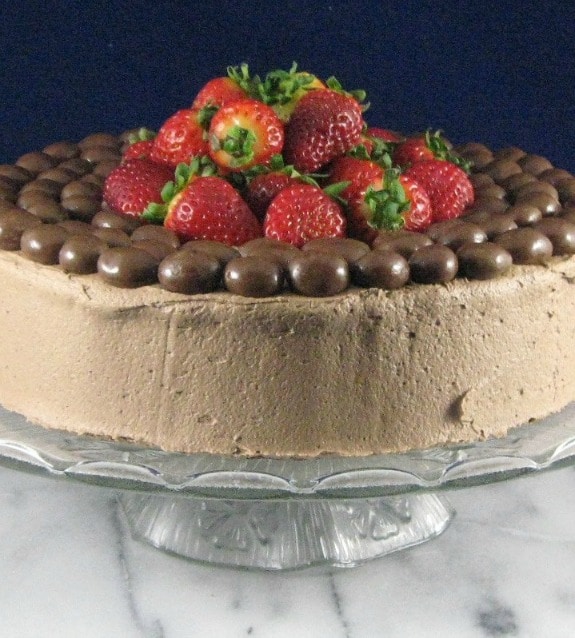 Best Chocolate Buttermilk Cake with Chocolate Frosting
Ingredients
1 cup milk, warmed
1 tsp vinegar
1/2 cup butter, softened
1 1/2 cups sugar (I use only 1 cup of sugar or ¾ cup of agave syrup)
2 eggs, at room temperature
1 1/2 cups flour
1/2 cup cocoa
1 1/2 teaspoons baking soda
200 grams double cream
1/4 cup sugar
3/4 cup chocolate, melted
1 teaspoon orange extract
Instructions
Add the vinegar to the milk and set aside. Cream the butter and sugar together until light and fluffy. Add the eggs and continue to beat until well combined.
Stir the buttermilk and add it to the butter/sugar/egg mixture. Mix gently as vigorous beating will have the buttermilk flying all over.
Sieve the dry ingredients together. Add them to the wet mixture and mix with a metal spoon until it forms a smooth batter.
Pour into a greased 8" round baking tin and bake at 365?F for about 35-minutes or until a toothpick inserted in the center comes out clean. Remove from oven and cool before turning out and icing.
Gently whisk the double cream and sugar together until in increases a bit in volume.
Add the melted chocolate and orange essence and continue beating until smooth and glossy and almost holding stiff peaks.
Chill in the refrigerator for about 15-20 minutes until it firms up a little and is spreadable without being runny.
Then split the cake in half and fill the center with half the mixture. Use the rest to frost the rest of the cake. Chill until ready to serve.
Notes
I usually use whipping cream but my supermarket was out of it. When doing so, beat the cream until it doubles and forms soft peaks. Add the chocolate and beat until the mixture is stiff with firm peaks. Then ice the cake.
https://stlcooks.com/best-chocolate-buttermilk-cake-with-chocolate-frosting/
Recipe and Photo: Foodista / CC BY