Jump to recipe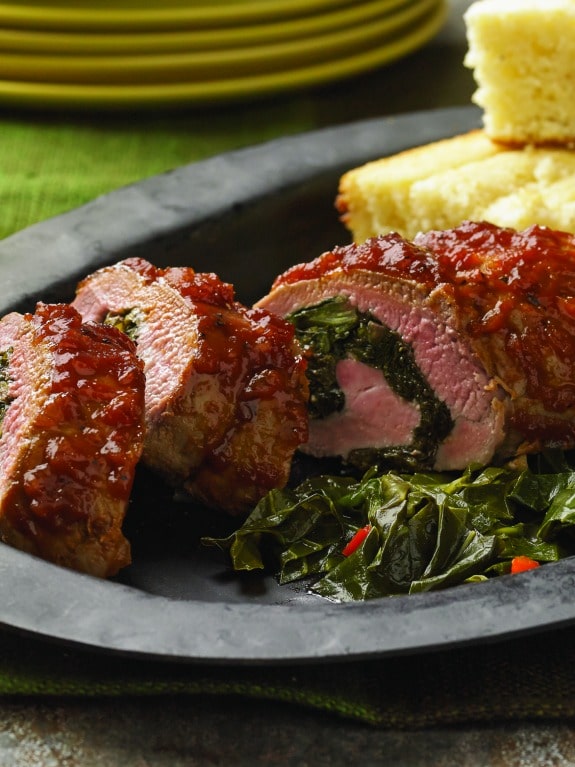 According to Chef Judson Allen, a "Next Food Network Star" finalist and chef who has maintained a 150-pound weight loss, Americans can take care of their hearts without sacrificing their favorite foods.
For Chef Allen, those favorite foods include fried pork, greens and corn bread – a meal he remembers enjoying with his family on Sunday nights. "Just like so many people across the country, there are certain meals that I just don't want to give up," said Allen. "When I decided to create a healthier version of that dish, I used pork tenderloin, which is certified as heart-healthy by the American Heart Association, and so flavorful and versatile enough to include in any generational recipe."
For a complete meal that everyone will love, serve Chef Allen's BBQ Roasted Pork Tenderloin Stuffed with Braised Collard Greens & Caramelized Onions with corn bread and a salad on the side. And remember, for a tender eating experience, cook pork loin roasts, chops and tenderloins to an internal temperature between 145°F (medium rare), followed by a three-minute rest and 160°F (medium), using a digital thermometer to ensure an accurate reading.
Learn about all the leanest cuts of pork and try even more great-tasting pork tenderloin recipes at porkbeinspired.com.
Roasted Pork Tenderloin Stuffed with Braised Collard Greens and Caramelized Onions

Ingredients
1 tablespoon olive oil
1 cup onion, chopped
1/4 cup red bell pepper, finely chopped
2 cloves garlic, minced
1/8 teaspoon sea salt to taste
1/2 teaspoon black pepper
1 cup low-sodium chicken stock
1/2 cup stout beer or 1 cup low-sodium chicken broth
1 tablespoon apple cider vinegar
1 tablespoon honey
1 pound collard greens, washed and cut
1 tablespoon fat free cream cheese
1 teaspoon hot sauce
1 pound pork tenderloin
1 1/2 cups BBQ sauce
Instructions
In heavy pot, add oil and onions and cook over medium heat until caramelized. Add red peppers, garlic, sea salt and black pepper. Cook for about 2 minutes.
Add chicken stock, beer, vinegar and honey and bring liquid to a boil. Add greens to liquid. Cook for about 45 minutes to an hour or until tender. Remove pot from heat and drain remaining liquid. Add cream cheese and hot sauce and stir.
While greens cook, prepare pork tenderloin. Butterfly your pork tenderloin by cutting a slit down middle. Do not cut through pork. Cover pork with plastic wrap; pound with flat side of meat mallet until about 1/2-inch thick, starting from middle and working outward. Discard plastic wrap.
Spread collard green mixture over tenderloin and tightly roll. Secure seams with toothpicks.
Place pork in baking dish and brush liberally with BBQ sauce. Bake in 350°F preheated oven for 25-30 minutes or until internal temperature of pork has reached 145°F. Let pork rest for 5 minutes and then slice and serve.
Source: National Pork Board