Jump to recipe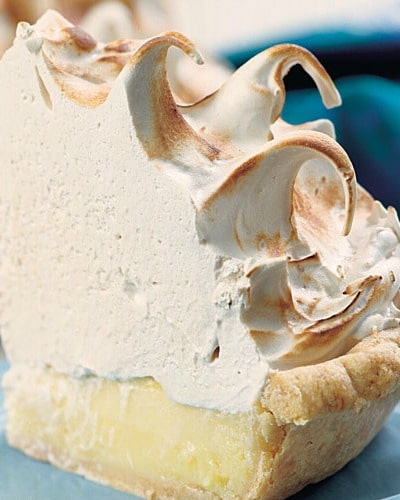 Ingredients
1 x 9–inch pie crust, baked
3 eggs, separated (Make sure you beat the eggs before adding the remainder of the ingredients)
1 can sweetened condensed milk
½ cup key lime juice (or regular lime juice)
1-2 tablespoons Irish whiskey (optional)
few drops green food coloring (optional)
½ teaspoon cream of tartar
? cup sugar
4-5 egg whites for higher meringue
Instructions
Bake pie crust and set aside to cool.
Preheat oven to 350 °F (175 °C).
Beat egg yolks.
Add and stir in sweetened condensed milk, lime juice, Irish whiskey (optional) and a few drops of food coloring (optional).
Mix and pour into baked pie crust.
In a mixer bowl, beat egg whites with cream of tartar. Beat until soft peaks form.
Gradually beat in sugar. Beat until stiff.
Spread mixture on top of pie, sealing edge of pie crust.
Bake for 15–18 minutes or until golden brown.
Serve chilled.
Recipe and Photo: recipes.wikia.com / CC BY-SA