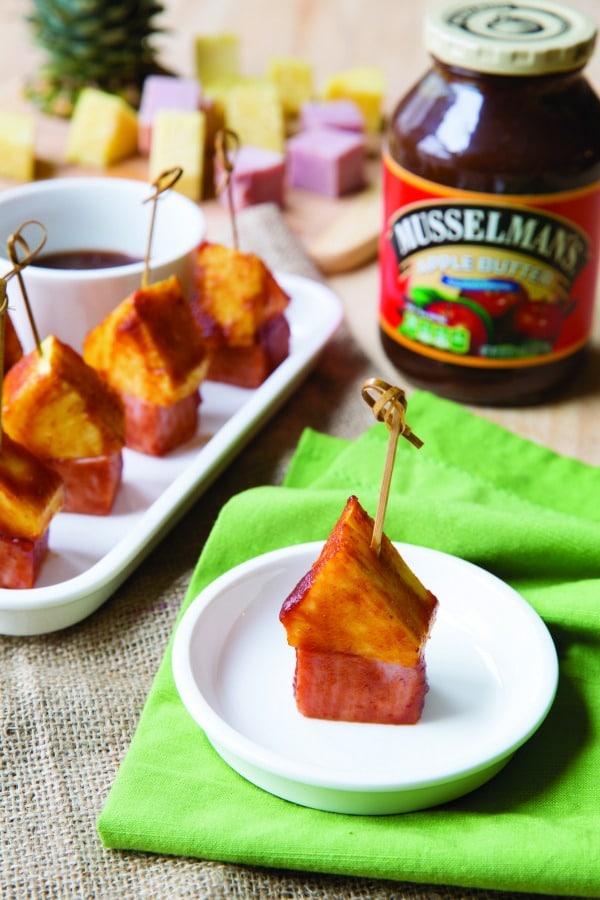 BBQ Sauce-Glazed Pineapple Ham Picks
Ingredients
2/3 cup Musselman's Apple Butter
2/3 cup barbecue sauce
2 teaspoons Dijon mustard (optional)
1 pound cooked ham, cut 3/4 inch thick
1/2 fresh pineapple
Instructions
Preheat oven to 400F. Pour Musselman's Apple Butter, barbecue sauce and mustard into bowl and stir to combine.
Cut ham and pineapple into 3/4-inch cubes, about 36 each. Place one pineapple chunk on each toothpick, followed by a chunk of ham. Stand the picks up on baking sheet and brush each one with BBQ sauce mixture. Cover all sides.
Bake for 10 minutes. Serve warm with remaining sauce for dipping.
https://stlcooks.com/bbq-sauce-glazed-pineapple-ham-picks/
Source: Musselman's