Jump to recipe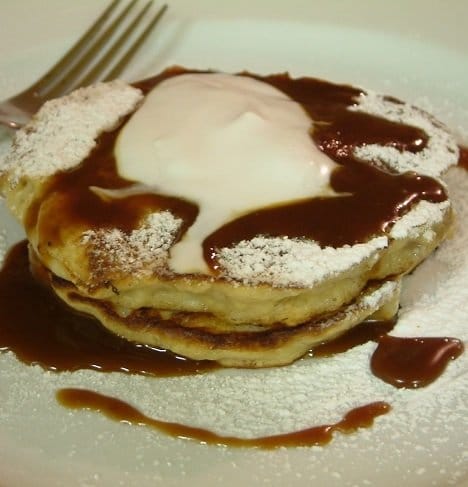 Banana Pancakes with Coconut Caramel Sauce

Ingredients
2 eggs ( separated)
1 tablespoon of castor ( granulated) sugar
125gm (3oz) self raising flour
1 teaspoon baking powder
4 5 medium bananas
2 tablespoons of milk or coconut milk
Caramel Sauce
250gm (8 oz) dark coconut sugar (you can also use palm sugar or brown sugar)
200ml ( ¾ cup) coconut cream (or thick unsweetened coconut cream, or thickened heavy dairy cream)
80ml (1/4 cup) water
1-2 Tablespoon lemon juice
Instructions
Roughly chop the sugar and put it into a pot with the water simmering gently and breaking up the sugar with a fork. There maybe some lumps left but add the coconut cream ( or cream) and simmer for 2-3 minutes until the sauce bubbles and thickens. it will thicken naturally as it boils. Add ½ the lemon juice and taste. Add the rest if you to taste. set aside
Mash the bananas in a bowl ( or puree in a processor). Mix in the sugar, egg yolks, and coconut milk. Combine well then stir in the (well mixed) flour and baking powder, till just combined.
Beat the egg whites in a clean bowl till soft peak and fold gently through the pancake mixture.
Heat a fry pan and cook pancakes in batches, any size you like.
Chill a container of coconut cream. It thickens up when chilled and can be used like whipped cream.
Recipe and Photo: My Kitchen Stories / CC BY-SA