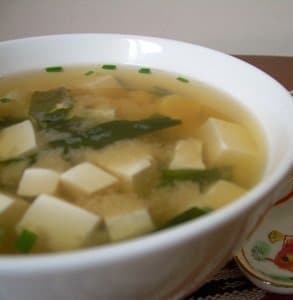 Ingredients
500ml water
2 to 3 tablespoons miso paste (see cooking tips)
1 tablespoon wakame (see cooking tips)
100 grammes silken tofu (cut into small cubes)
---
Instructions
Bring water to boil. Add miso paste and wakame. Stir well to dissolve miso paste and allow wakame to hydrate and expand.
Lastly, add tofu and allow to boil for about 30 seconds before serving.
Notes
Your miso paste should contain bonito extract, if it does not, add 1 tsp. Hon Dashi (Bonito flakes) when you add the miso paste

Wakame is not easy to find. We have had much success shredding sheets of nori, and using that instead of the wakame.
https://stlcooks.com/miso-soup/