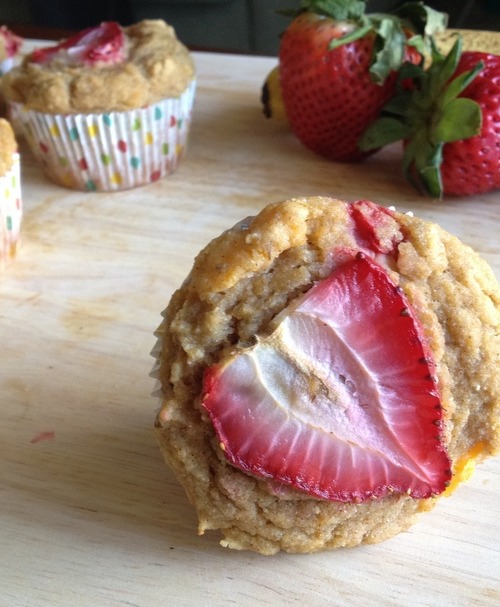 Banana Mango Strawberry Muffins
Ingredients
2 overripe bananas
1 cup mangoes, fresh or frozen
1 cup strawberries
2 large eggs
1 cup whole wheat pastry flour
1/3 cup coconut flour
1/4 cup sugar
1/3 cup unsweetened applesauce
1/4 cup canola oil
3 TBS yogurt (any kind)
2 tsp pure vanilla extract
1 tsp cinnamon
1 tsp baking powder
1/2 tsp baking soda
1/4 tsp sea salt
Instructions
Preheat oven to 350ºF. Either line a 12-cup muffin pan with paper liners or grease the cups with oil or cooking spray.
If you are using frozen fruit, make sure to thaw them out first. Chop the mangoes into small cubes. Pick out two or three strawberries and slice them so that you end up with 12 slices. These will be used to top the muffins. Chop the remaining strawberries into small pieces.
Mash the bananas in a medium-sized mixing bowl. Add the eggs, canola oil, applesauce, and yogurt into the bowl and mix well.
In a separate bowl, mix the dry ingredients together. Gradually pour the dry ingredients into the bowl with the wet ingredients and mix.
Fold in the chopped mangoes and strawberries.
Fill 12 muffin cups with the batter, and top each muffin with the sliced strawberries.
Bake for about 20 to 25 minutes, or until a fork comes out cleanly.
https://stlcooks.com/banana-mango-strawberry-muffins/
Recipe and Photo: Foodista / CC BY