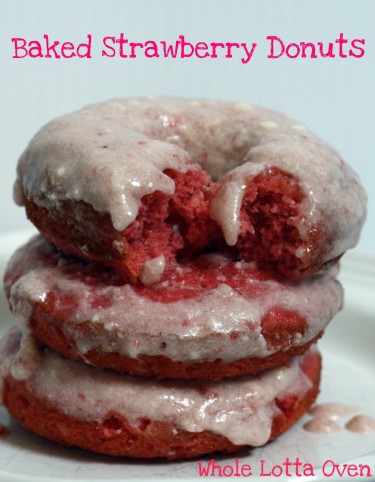 Ingredients
For Donuts:

1 cup boxed white cake mix
3 tablespoons boxed strawberry jello (dry mix)
1 egg
5 to 6 medium strawberries
2 tablespoons strawberry jelly

For Icing:

1 1/2 cups powdered sugar
3 tablespoons butter, softened
2 tablespoons of the strawberry puree (reserved from donut batter)
3 tablespoons milk
1/2 teaspoon vanilla
Instructions
Preheat oven to 350 degrees.
Grease and flour donut pan.
In the bowl of a food processor, add strawberries and jelly and pulse until pureed.
In a medium size bowl, combine cake mix, dry jello, and egg. Add 1/3 cup of pureed strawberry mixture to batter, reserving around 2 tablespoons for glaze. Mix until combined.
Place batter into the donut pan.
Bake for 8 to 10 minutes or until donuts spring back when touched.
Cool in pan for 5 minutes before transferring to a wire rack to cool completely.
To make the icing, beat butter with a hand mixture until smooth. Add powdered sugar until combined. Add 2 tablespoons of strawberry puree, milk, and vanilla. Mix until combined and smooth.
Once donuts are cooled, dip each into icing and place back on cooling rack until icing is set.
https://stlcooks.com/baked-strawberry-donuts/
Recipe and Photo: Whole Lotta Oven / CC BY