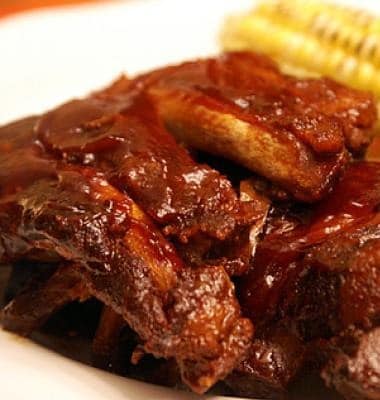 Slow Cooker Barbecue Ribs
Ingredients
2 Large Slabs of Pork Ribs
¼ Cup Broth (Beef or Chicken-either works fine, you could even use water)
40 oz. Bottle of your favorite BBQ Sauce *I didn't need that much but it's what I had and didn't measure but it leaves extra for dipping.
Salt, Pepper and Garlic Powder to taste
Instructions
Portion 2 slabs to allow them to fit in the slow-cooker easily.
Season each piece with salt, pepper and onion salt.
Cover bottom of Slow-cooker with BBQ sauce.
Add broth. (I only do this so the BBQ sauce doesn't burn up and this step could possibly be skipped)
Place sectioned/portioned ribs into slow-cooker, brushing them with BBQ sauce as you set them in.
Layer them in so they all fit.
Cook on low for 8-10 hours or until they fall off the bone.
Remove from slow-cooker and transfer them to a foil lined baking sheet.
Brush each portion with BBQ sauce.
Broil for 5 minutes or until the sauce starts to bubble and caramelize.
Remove from broiler let cool slightly.
https://stlcooks.com/slow-cooker-barbecue-ribs/
Recipe and Photo: Foodista / CC BY