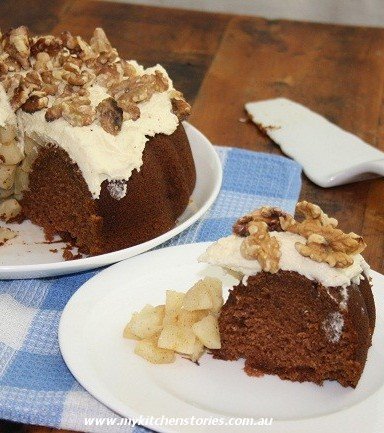 Ingredients
2 cups of flour
1.5 teaspoons baking soda
1/2 teaspoon salt
1/4 teaspoon ground black pepper
2 teaspoons of cinnamon
1 teaspoon ginger
1 teaspoon nutmeg
2 eggs
1 cup caster sugar
1/2 cup brown sugar
1 1/2 cups apple sauce ( unsweetened and/or homemade)
2/3 cup oil
vanilla

Butter, cream cheese frosting.

250gm unsalted butter (softened)
4 oz cream cheese
juice of 1 lemon
500gm pure icing sugar ( sifted)
2 oz toasted walnuts ( or more if you like them)
1/4 teaspoon of both cinnamon and nutmeg

Apples

4-5 tart apples peeled and diced
50 gm sugar
30 gm butter
1 vanilla bean
1 Tablespoon lemon juice
Instructions
You will need; to preheat the oven to 350 and grease a bundt tin ( optional)approx 12 cup.
Sift the flour Baking soda, Baking powder and mix with the spices set aside
Beat the eggs and sugar till light and airy ( this will make the base for the cake so don't skimp here.) Then beat in the applesauce, oil and vanilla.
Fold the dry ingredients into this mixture, without over working
Pour into the tin and bake approx. 45minutes. Testing the cake with a skewer before removing from the oven.

To make the icing;

Beat the butter and cream cheese until light and fluffy and then add the juice add 3/4 of the sugar. Beat again until very light. Add more sugar to taste

To cook the apples

Heat a non stick frypan and add the butter. When the butter is melted add the apples lemon juice sugar and scrapped vanilla seeds.
Toss the apples on low until they are cooked through. Add more sugar if you have a sweet tooth. But remember the icing will also be sweet
Turn the cake onto a dish and fill the centre with the apples. Ice the cake, covering the top of the apples, and smoothing over. Scatter the walnuts on to the top of the cake and sprinkle it with the nutmeg and cinnamon.
https://stlcooks.com/apple-sauce-cake/
Recipe and Photo: My Kitchen Stories / CC BY-SA