Jump to recipe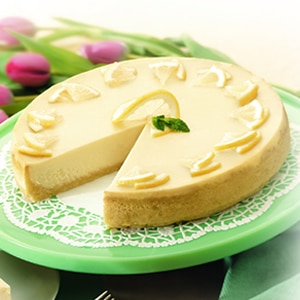 Recipe for White Chocolate Lemony Cheesecake – Although it takes some time to prepare this eye-catching cheesecake, the combination of tangy lemon and rich white chocolate is hard to beat.
White Chocolate Lemony Cheesecake

Ingredients
Crust
6 tablespoons butter or margarine, softened
1/4 cup granulated sugar
1 1/4 cups all-purpose flour
1 large egg yolk
1/8 teaspoon salt
Cheesecake
6 bars (two 6-ounce boxes) Nestlé Toll House Premier White Baking Bars, broken into pieces
1/2 cup heavy cream
2 packages (8 ounces each) cream cheese, softened
1 tablespoon lemon juice
2 teaspoons grated lemon peel
1/4 teaspoon salt
3 large egg whites
1 large egg
Instructions
PREHEAT oven to 350 F. Lightly grease 9-inch springform pan.
For Crust – BEAT butter and sugar in small mixer bowl until creamy. Beat in flour, egg yolk and salt. Press mixture onto bottom and 1 inch up side of prepared pan.
BAKE 14 to 16 minutes or until crust is set.
For Cheesecake – MICROWAVE baking bars and cream in medium, uncovered, microwave-safe bowl on MEDIUM-HIGH (70%) power 1 minute; stir. Bars may retain some of their shape. If necessary, microwave at additional 10- to 15-second intervals, stirring until smooth.
BEAT cream cheese, lemon juice, lemon peel and salt in large mixer bowl until smooth. Gradually beat in melted baking bars. Beat in egg whites and egg. Pour into crust.
BAKE 35 to 40 minutes or until edge is lightly browned. Run knife around edge of cheesecake. Cool completely on wire rack. Refrigerate several hours or overnight. Remove side of springform pan. Garnish as desired.
Recipe and Photo: Nestle's USA